Spotted! Delissio's street-side pizza pop-up
The makeshift pizza parlour gave out more than 6,000 free pizzas to promote a more customized pizza experience.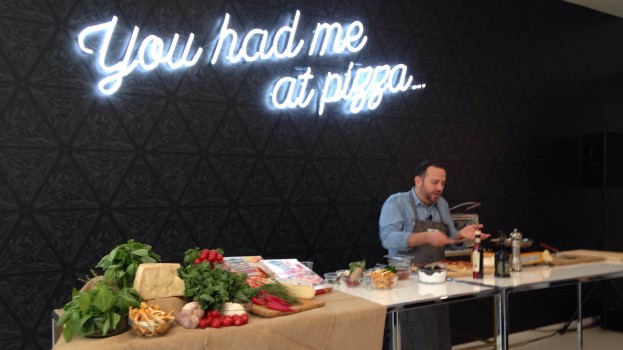 While Delissio's frozen pizza brand is normally all about staying in for pizza, it recently tried a different spin on the traditional pizza night: doing a night out.
Delissio opened a pop-up pizzeria serving custom and pre-made pizzas at King and Peter streets in Toronto between Nov. 4 and 11. And despite the atmosphere inside the restaurant (which included a DJ, cruiser tables and a minimalist trendy decor), the pizza was a bit cheaper than most King West restaurants. In fact, it was free.
Madeline Wolkove, marketing director for Delissio, said the campaign was an effort to reach out to food-loving millennial consumers and encourage more customization on their pizzas, particularly on Delissio's line of thin-crust Rustico pizzas which launched last year.
"We know that the younger consumer in general is looking to add more sophisticated toppings to their pizza, so we wanted to articulate that that was possible and let them have a little fun with it," she told MiC.
The location of King and Peter was chosen specifically for its close proximity to Toronto's bustling condo neighbourhood and entertainment district.
According to Wolkove, the pop-up has given out more than 6,200 pizzas and seen just over 6,100 visits to the site. The vast majority of the pizzas given away have been custom pizzas.
The pop-up was a joint effort between Maxus Canada, Traffik Experiential, OneMethod (which executed a paid social media boosting for the event) and Narrative for PR.