NBA Canada brings AR to KFC stores
The association has also paired with Manchu Wok as part of its annual Chinese New Year celebrations.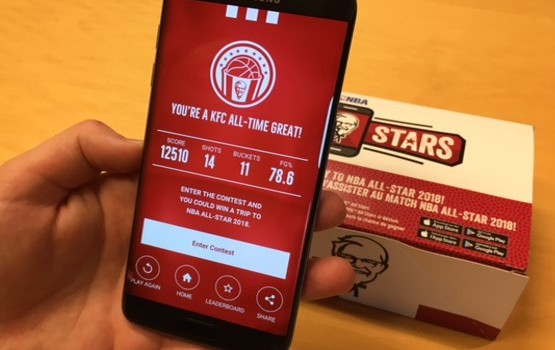 KFC and Manchu Wok are tapping into Canada's surging basketball fever (sure to skyrocket even more now that Toronto Raptors shooting guard DeMar DeRozan has been chosen for the NBA All-Star 2017 game). The two fast food brands are the latest sponsors to sign on with NBA Canada. Other sponsors including Bell, BMO, Kumho Tire and New Era, renewed their partnerships with the organization in 2016.
KFC will promote its NBA partnership through in-store branding, with an added augmented reality twist. A special NBA All-Star logo on specific KFC product packaging will trigger an augmented reality contest on a new KFC app developed by Grip Limited. When a user scans the logo with the app, it enters them into a contest to win a trip to the NBA All-Star 2018 game in Los Angeles.
Dan MacKenzie, VP and MD of NBA Canada, told MiC the partnership with KFC is part of NBA Canada's continued aim to tap a family audience, which is why it chose to tap a family-oriented fast food partner.
Promotion of the contest and app is supported by a national television advertising campaign with social media support, which MacKenzie said would also largely target young families. The media buy for the KFC promotion was executed by MediaCom Canada.
Beverley D'Cruz, marketing director for KFC, said the chain has always gone after families with children, but the new focus on basketball is part of an effort to stay relevant with those audiences. While D'Cruz would not comment on the chain's market share in Canada, she said it is experimenting with new ways to broaden its reach while keeping its core demographic of young families satisfied.
She said in the past several years, the chain has seen a significant shift in media spend. "Previously, 90% of our budget went to TV [advertising]," she told MiC. "Over the last couple years, we've reduced that by around 20 to 30%, and that has all gone directly over to digital and social."
Manchu Wok is activating its new deal with in-store activations around the Chinese New Year.
The QSR  is hosting an in-store contest in which customers are given a PIN card with purchase for a chance to win specially designed NBA Chinese New Year gear, including jerseys, socks and hats. The program will be amplified through social, digital and radio advertising, with paid media by LG2.
In addition, the NBA has also added a new TV spot, "Secret Envelope" with a happy Year of the Rooster message to fans.
MacKenzie the NBA's celebrations of Chinese New Year, which has  been ongoing for six seasons, is part of the associations goal to "reflect the diversity of the NBA's fans in Canada."
While he wouldn't give exact figures, he said the NBA's Chinese-Canadian fan base has been growing over the years.The league will also mark that growth by broadcasting more live games in China than ever before, with 60 for the 2016/17 season. It is also adding special Chinese New Year uniforms worn by four teams including the Toronto Raptors, along with celebrations hosted in home arenas by the Raptors and eight other teams.
Manchu Wok is the first Canadian brand to partner with the NBA for the Chinese New Year celebrations.
According to a rep for the NBA, a total of 10.4 million Canadians tuned into the NBA All-Star weekend broadcasts in 2016, which included the NBA Rising Stars, NBA Celebrity Game, NBA All-Star Saturday Night and the 2016 NBA All-Star Game. The All Star Saturday Night line-up of programming drew an average audience of one million Canadians, while the game itself (which aired the following day) drew an average audience of 947,000 Canadian viewers (2+) and a total reach of 2.5 million people.