Spotted! Cheerios adds experiential to year two of Bees
The General Mills brand is targeting young Canadians with an interactive pop-up store in Toronto this weekend that shows what shopping will look like if bees continue to disappear at current rates.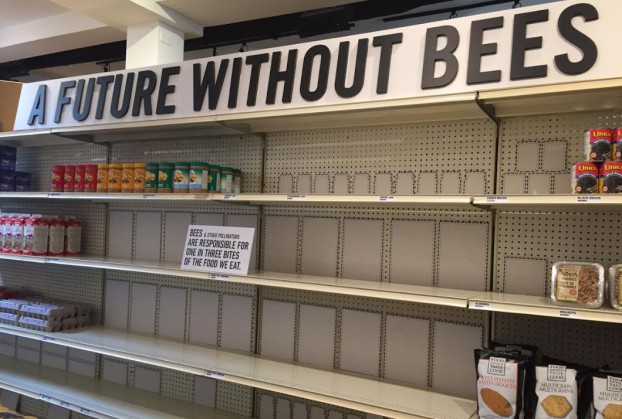 General Mills and Honey Nut Cheerios are painting a stark picture of the future of food this weekend in Toronto, part of the "Bring Back the Bees" campaign's second year.
The brand is hosting a pop-up grocery store on Queen St. West in Toronto, showing the empty shelves that would become a reality if the mass die-offs of North American bees are not halted and they exit the food chain. This are contrasted with the full aisles of food if the depleting bee population is addressed.
Adding the "Grocery Store of the Future" to this year's media plan is part of General Mills' aim to bring more young Canadians into this year's campaign, which was more broadly targeted last year. Emma Eriksson, VP of marketing at General Mills Canada, said that though the first year of the campaign was more broadly targeted, younger Canadians got involved and planted the free seeds.
In order to reach kids that might be visiting the pop-up with their parents, the futuristic grocery store tours are being led by 14-year-old eco-activist Hannah Alper, with facts about bees and their habitats presented by other young Canadians. The idea of the pop-up is to be a "mini science centre," said Eriksson, giving younger visitors an experience that will stay with them.
General Mills has also partnered with children's network YTV on a month-long integration launching March 18. Bee-related programming and informative segments will air during the network's Zone Weekend and Big Fun Movies programming blocks.
The cereal brand has also once again removed its Buzz the Bee mascot from its boxes, and is giving out free wildflowers to Canadians in order to feed the bee population. Last year the brand had a goal of planting 35 million new wildflower seeds, but ended up handing out 100 million by the end of the campaign.
Media is being overseen by Cossette Media and creative by Cossette. Veritas is on PR, Hunter Straker has once again created the special packaging and Mosaic is handling experiential.
With files from Josh Kolm