ICYMI: National Post adds new financial features
Plus, Vice and W5 get ready to go live while Much gets the broadcast rights to the Brit Awards.
Vice and W5 to premiere first doc together
Vice Canada and W5 will present their first documentary as partners. Steel Town Down: Overdose Crisis in the Soo will premiere Feb. 10 at 7 p.m. on CTV's W5, while also live-streaming concurrently on Twitter through a patnership with Twitter Canada. The doc takes a close-up look at how the country's opioid crisis is affecting smaller communities, particularly the city of Sault Ste. Marie, Ont. Vice and Bell Media struck the deal in December, as part of Vice's strategy to expand its mass reach. Part two of the partnered doc series will be announced at a later date.
National Post introduces new digital alerts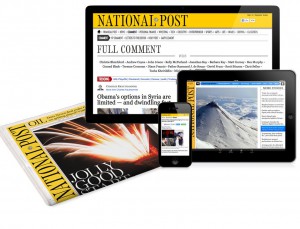 The National Post has introduced two new offerings for Financial Post readers: "watchlist" and "alerts." The new features will provide users with notifications updating them on their investments and other businesses of interest. Updates include price changes of stocks, mutual funds and exchange-traded funds. The alerts are the result of a partnership between Postmedia and National Bank Direct Brokerage. Postmedia is producing an ad campaign to promote this new tools within its own digital and print network.
Twitter's first-ever profitable quarter
The fourth quarter of 2017 was the first profitable one for Twitter since the social platform went public. The company recorded US$732 million in revenues in Q4, a 2% increase over Q4 last year. That translated into US$91 million in net income, a nice turnaround from the $167 million it lost in the same period last year. User growth did slow in this measured period, with monthly active users holding firm around the 330 million mark – a 4% jump year-over year.
Much to broadcast Brit Awards
Music and lifestyle network Much will be the exclusive Canadian  broadcaster of The Brit Awards 2018. On Feb. 21 at 10 p.m., the star-studded show from London will feature performances from Justin Timberlake, Ed Sheeran, the Foo Fighters and Sam Smith. Canadian talent featured in the show are nominees Arcade fire and Drake, nominated for International Group and International Male Artist, respectively.