The Good Doctor takes the top: Numeris
The medical drama took in more than three million viewers.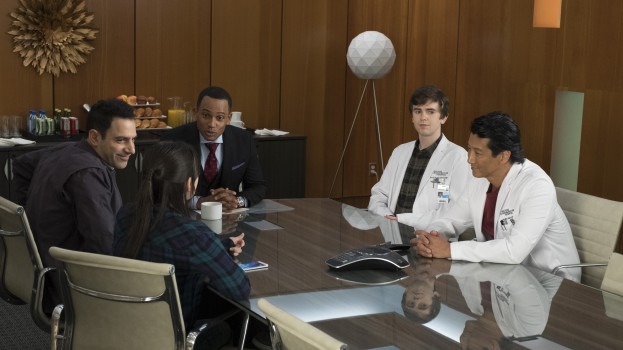 CTV's The Good Doctor was back at number one for a second week in a row, pulling an AMA of over 3 thousand viewers for its March 19 broadcast, making it the highest viewed single-night- program for the week of March 19 to 25.
But despite keeping a strong audience from last week, viewership of the top-five declined overall. With favourites such as Big Bang, Young Sheldon, NCIS and Bull not airing for the week, other titles such as 9-1-1 and Murdoch Mysteries managed to crack the national top-five, although neither cracked two million.
In terms of special event programming, the 47th annual Juno Awards aired March 25 on CTV, taking 1.13 million viewers and performing strongest in Vancouver/Victoria.
In the French market, La voix once again ruled the week, growing its audience slightly.
Canada
1. The Good Doctor on CTV Monday at 10 p.m.: 3.17 million viewers
2. Survivor on Global Wednesday at 8 p.m.: 2.09 million viewers
3. Grey's Anatomy on CTV Thursday at 8 p.m.: 1.72 million viewers
4. 9-1-1 on Global Wednesday at 9 p.m.: 1.58 million viewers
5. Murdoch Mysteries on CBC Monday at 8 p.m.: 1.39 million viewers
Montreal (Anglophone)
1. The Good Doctor on CTV Monday at 10 p.m.: 101,000 viewers
2. Grey's Anatomy on CTV Thursday at 8 p.m.: 74,000 viewers
3. Deception on CTV Sunday at 10 p.m.: 67,000 viewers
4. Law and Order: SVU on CTV Wednesday at 9 p.m.: 66,000 viewers
5. Designated Survivor on CTV Wednesday at 10 p.m.: 66,000 viewers
Quebec (Francophone)
1. La voix on TVA Sunday at 7 p.m.: 2.2 million viewers
2. Unité 9 on SRC Tuesday at 8 p.m.: 1.51 million viewers
3. L'échappée on TVA Monday at 8 p.m.: 1.27 million viewers
4. La vraie nature on TVA Sunday at 9:15 p.m.: 1.2 million viewers
5. Les pays d'en haut on SRC Monday at 9 p.m.: 1.18 million viewers
Toronto/Hamilton
1. The Good Doctor on CTV Monday at 10 p.m.: 694,000 viewers
2. Hockey Night in Canada on CBC Saturday at 7:15 p.m.: 524,000 viewers
3. Survivor on Global Wednesday at 8 p.m.: 444,000 viewers
4. 9-1-1 on Global Wednesday at 9 p.m.: 404,000 viewers
5. Designated Survivor on CTV Wednesday at 10 p.m.: 374,000 viewer
Edmonton
1. The Good Doctor on CTV Monday at 8 p.m.: 91 viewers
2. 9-1-1 on Global Wednesday at 10 p.m.: 80 viewers
3. Survivor on Global Wednesday at 9 p.m.: 79,000 viewers
4. Hockey Night in Canada on CBC Saturday at 8 p.m.: 74,000 viewers
5. Chicago Fire on Global Thursday at 7 p.m.: 73,000 viewers
Calgary
1. The Good Doctor on CTV Monday at 8 p.m.: 131,000 viewers
2. Grey's Anatomy on CTV Thursday at 8 p.m.: 81,000 viewers
3. Station 19 on CTV Thursday at 9 p.m.: 77,000 viewers
4. Survivor on Global Wednesday at 9 p.m.:74,000 viewers
5. Chicago Fire on Global Thursday at 7 p.m.:73,000 viewers
Vancouver/Victoria
1. The Good Doctor on CTV Monday at 10 p.m.: 226,000 viewers
2. The Juno Awards on CBC Sunday at 5 pm.: 186,000 viewers
3. Survivor on Global Wednesday at 8 p.m.: 164,000 viewers
4. Murdoch Mysteries on CBC Monday at 8 p.m.: 157,000 viewers
5. Instinct on Global Sunday at 8 p.m.: 143,000 viewers