Canadian campaigns, agencies rock Warc media rankings
Via took the top for Canadian work, but what else accumulated major points?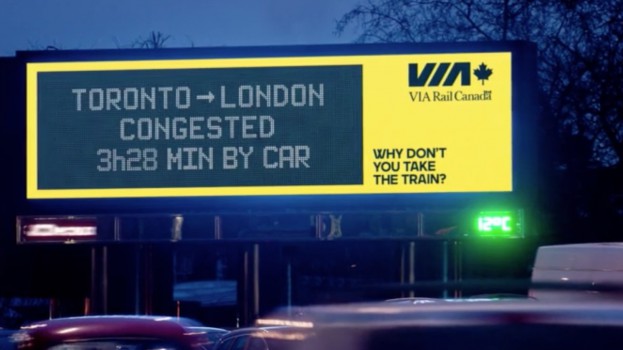 Global firm Warc has released its ranking of the top-100 global media campaigns – and Canada landed in the top-10 twice.
In fact, Via Rail's "Data vs. Car" campaign, executed by Omnicom agency Touché!, was the second overall highest-scoring media campaign on the list, second only behind Mediacom's "I Don't Roll on Shabbos" campaign for Gillette in Tel Aviv.
Warc measures effectiveness for media campaigns based on surveys with marketers around the world. It assigns points for each campaign for the major global and regional awards they've brought in, with the value for each award based on the perspectives of the marketers surveyed. A cumulative point score is then determined, with each campaign ranked from highest to lowest.
"Data vs. Car," which swept numerous Canadian and global award shows (it took Best of Show at last year's Media Innovation Awards) accumulated a total of 91.3 points. The campaign saw Via, with the help of Touché!, target potential train passengers, a.k.a. drivers, with ads before, during and after their often-treacherous commutes, resulting in an 11.7% increase in train ridership and a revenue increase of 13.9% year-over-year.
Of the three campaigns that made the top-100, all come from Touché!; two from the Montreal office and one from Toronto. Touché! Montreal made the top-10 twice, with "The App That Made Milk Cartons Sing" taking #7 with 66.5 points. "A Sedan Re-Imagined" for Audi took #78 with 22 points.
Those campaigns helped propel Touché! to the overall number-two spot for global agencies. Meanwhile, its sister agency, PHD, came in at #38.
Canadian advertisers also raked in the media points; the Government of Canada took an overall rank of 15 with 91.3 points for its media campaigns throughout the year; Quebec Milk Producers came in at #20 with 74.5 points and Tim Hortons' parent company, Restaurant Brands International, came in at #41 with 49.1 points.
WPP, with headquarters in the U.K., came in as the top-ranked global holding company, with a cumulative 2,472.5 points. Omnicom, with head offices in the U.S., came in second with 1.774.3 points.