People Moves: Bell Media, Wavemaker and more
Plus, LinkedIn staffs up its Canadian sales team.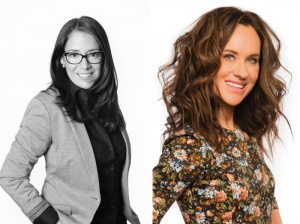 Two appointments at Bell Media sales
Chloé Boissonnault has been named the national general manager of communications and marketing for Bell Media sales. Boissonnault, who has been with the media company since 2014, previously worked as GM of communications and marketing only for the Quebec branch. She will now be responsible for both the Montreal and Toronto teams. In addition, Geneviève Clément has been promoted to senior communications marketing manager in the Quebec market. She has held the position of marketing and communications manager for the Quebec market since November 2014.
Pictured, left to right: Chloé Boissonnault, Geneviève Clément
Nine moves at Wavemaker
GroupM shop Wavemaker has gone through a series of hires and promotions in its Toronto office. Sandra Cardoso, formerly of production studio Quiver, is now a media director handling business for Danone North America brands, including: Activia, Oikos, DanActive and Silk. Assistant buyer and planner Forrest Yiu comes to the agency from OMD. Recent graduate Luna Jiao, who held an internship with Bob's Your Uncle agency, has gotten her first full-time agency job with Wavemaker as an assistant buyer and planner. Other new assistant buyers and planners include Sumaia Gasmelsaed and Renata Barrientos Balderas. Senior buyer Cholog Kim has moved to the agency from another GroupM shop, Mediacom; while Glenn Thomas, former trade marketing manager at The Globe and Mail, has joined as the new director of business development and marketing.
James Lever, who has been with the agency for two years, transferred to the Toronto office from Brisbane, Australia, last month, and will work here as a digital manager. Heather Anderson, who has been with the Toronto office as a media buyer for two years, has been promoted to a senior media buyer.
Digital veteran moves to LinkedIn
Richard Wong has joined the Canadian media sales team with LinkedIn. Wong began his career in branding and marketing with CPG brands such as CoverGirl, Band-Aid and Visine before moving into the digital world, joining the Google product marketing team. From there, he moved to social media marketing agency #Paid, where he served as VP of marketing and creator relations. At the Microsoft-owed LinkedIn, he'll work as an account executive on the Canadian marketing solutions team, collaborating with advertisers and agencies to market themselves through the professional social network.