Dove integrates custom print cover
Beyond five unique un-retouched covers, this month's issue of Chatelaine tapped Dove's new stock photo library and featured a call for more representation.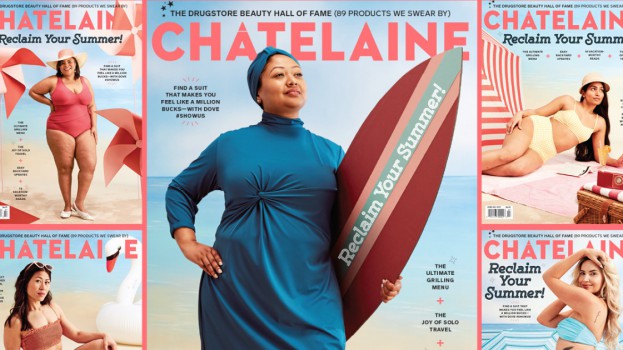 Dove's ongoing goal to portray women of varying shapes, sizes and ethnicities in their truest forms has never been a secret. Since the early 2000′s, the Unilever brand has executed creative campaigns focused on challenging common narratives and portrayals in the beauty industry.
However, its latest campaign, which launched early April with everything from a PR push around a special collection of stock photos to more standard media buys such as OOH and digital, features a major print media play.
Through a partnership with Rogers Media, this month's issue of Chatelaine, which hit shelves last week, features a collection of customized, unretouched covers.
And, rather than stick to one featured cover girl, Dove created five unique covers featuring different models including plus-size women, women of colour (including one in a modern swimsuit designed for modesty), women with tattoos, women with visible cellulite and more. Inside the magazine is also a full-page ad calling on agencies and advertisers to up their representation.
That call is a key point for the larger "#ShowUs" campaign, which has been calling on creative industries to improve representation in the stock images they use in their work. Chatelaine also signed a commitment to use Dove's #ShowUs image bank, created for the campaign, for any stock imagery within the issue.
The media space was procured through Dove's AOR Mindshare. On top of print, the buy features a TV integration, with a special segment on Citytv's Cityline on body confidence, and a supporting brandsell on City (although Rogers Media recently sold its magazine brands to St. Joseph Communications, this campaign integration was still handled by the former Rogers team during the bulk of planning). The overall creative campaign was conceived by Publicis Sapient, and the stock photo library was created in partnership with Getty Images and Girlgaze, a creative agency that specializes in connecting brands with women and non-binary talent.