Who took home hardware (and made history) at AOY?
A new media agency topped the annual awards, the culmination of a long journey.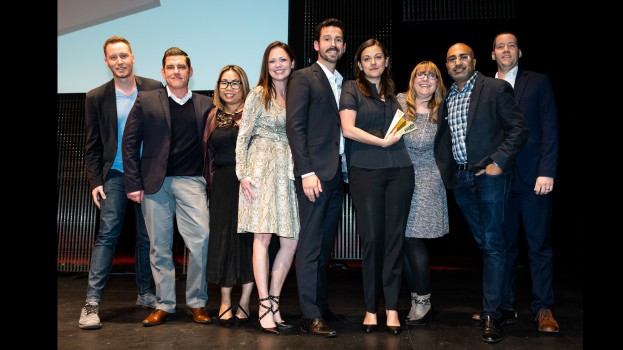 Strategy's 2019 Agency of the Year might as well have had a chair on stage. Creative shop Rethink stole the show this year with three big wins: one Gold in Agency of the Year, another Gold in Design Agency of the Year, and a Silver in Digital Agency of the Year.
FCB is also soaring higher than the rest. It's on year four of Digital Gold wins. The momentum continues as the agency finds strength and success in its data and CRM sister shop FCB/Six.
But despite the ongoing strength of creative juggernauts, the Media category saw some big shifts. IPG Mediabrands shop Initiative took home Gold for the first time, with agency president Helen Galanis expressing gratitude after several years of focus on re-building the agency's reputation and establishing it as a force to be reckoned with, not only on the awards scene but also with clients and especially media partners. Its sister agency, UM, took Silver, while Omnicom agency Touché! took Bronze.
As for the inaugural Small AOY Gold, that one goes to Target. The 40-year-old (in 2020!) agency from the edges of Canada's easternmost province is keeping it small to stay steady. And its success continues to be seen in regional show streaks.
And Narrative steps up to the PR Gold plate after winning a Silver last year. It stands out these days by showing no fear in the face of controversial campaigns.
Each AOY discipline was judged by a jury with relevant expertise from both the brand and agency side. In their evaluation of the shortlisted agencies' body of work, the jury assigns a mark to each case study, and the overall top-scoring campaign in the Media AOY competition this year was UM's work for the Hershey Company with the Oh! Henry "4:25″ campaign. The munchie-friendly effort to promote the candy maker's new bar (specially formulated for the hunger that strikes five minutes after 4:20) connected with a media strategy that combined influencers, experiential activations and a tongue-in-cheek OOH accompaniment.
Finally, media continued to make AOY history as the show was led by its first co-host from the media world; SVP and GM of Cossette Media Toronto Brooke Leland co-hosted the event alongside perennial host, and former Taxi CCO Steve Mykolyn.
The full list of winners in each category can be found below. Features on the top three media agencies will roll out tomorrow, going beyond the campaigns and focusing on the strategy behind their structures, with a look at the work that won.
Agency of the Year
Gold: Rethink
Silver: BBDO Toronto
Bronze: John St.
Media Agency of the Year
Gold: Initiative
Silver: UM Canada
Bronze: Touché!
Small Agency of the Year
Gold: Target
Silver: 123w
Bronze: Arrivals + Departures
Digital Agency of the Year
Gold: FCB Canada
Silver: Rethink
Bronze: Zulu Alpha Kilo
PR Agency of the Year
Gold: Narrative
Silver: Weber Shandwick
Bronze: Edelman
Design Agency of the Year
Gold: Rethink
Silver: Lg2
Bronze: DDB Canada
With files from Jennifer Horn