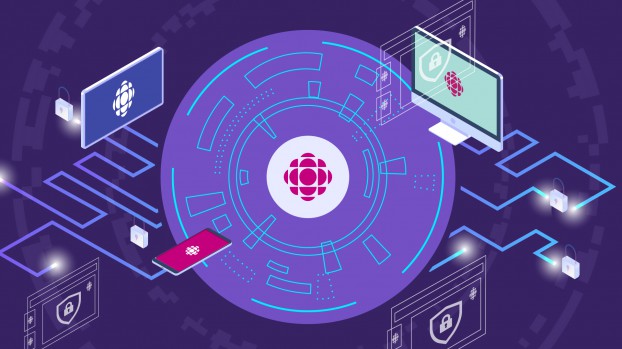 If there's one thing that Canadians have discovered over the last several months, it is that trust is of paramount importance when it comes to news and information. That's why so many have been relying on CBC/Radio Canada to get through the COVID-19 pandemic. In fact, for the second year in a row, CBC/Radio Canada is Canada's most trusted media and entertainment brand according to the Gustavson Brand Trust Index 2020 survey compiled by the Gustavson School of Business, University of Victoria.
Trust is also a key factor for advertisers looking for a brand-safe environment, and with a massive reach of over 21 million unique visitors, the audience spans two-thirds of Canadians, every single month in French and English, making it a desirable national platform.
As the public broadcaster, we all know that CBC/Radio-Canada is part of our national identity. And, during the crisis, CBC and Radio-Canada has risen to the coveted position of being the #1 Canadian website as reflected in the most current Comscore report, further solidifying the power of a strong Canadian voice.
Generally, news can be challenging to monetize during disturbing news cycles, but the CBC has been experiencing an industry movement to support Canadian journalism. The opportunity for advertisers to capitalize on the trust and equity in the CBC/Radio Canada brands is particularly appealing in these uncertain times, as audiences crave credible and familiar content.
All digital content across CBC/Radio Canada is available programmatically through its private marketplace, including OTT platform Gem and CBC Listen audio properties and podcasts. Gem alone attracts 1.5 million monthly visitors and 22.5 million monthly video views during COVID-19 event.
TOU.TV draws 1.2 million monthly unique visitors – up 40% over the same period last year according to Comscore research. During COVID -19 events, Adobe Analytics shows that TOU.TV generated 29.3 million views, a 57% increase over the same period in 2019.
CBC's digital audio products also draw massive audiences with 4.7 million hours of content consumed each month.
CBC is also the number one podcast publisher in Canada with 12 million monthly downloads, and podcast listeners skew younger, with 36% in the 18 to 34 age group. They also skew to the more affluent end of that spectrum, with a median household income of $81,000.
Using contextual targeting and first party-data, messages reach consumer segments brands want to reach – and with assurance of an appropriate environment; machine learning algorithms not only categorize content into targetable consumer segments, CBC/ Radio Canada ensures brand safety through Contextual Intelligence.
Jeff MacPherson, director of monetization platforms and services, says, "CBC/Radio Canada partnered with Oracle and Index Exchange to create brand-safe deal IDs within our private marketplace. What we're doing is leveraging the power of contextual to truly understand the nature of our content to keep brands away from articles they deem unsafe."
CBC's suite of advertising products includes video, display, custom content and podcasts; and while a programmatic engine can deliver on many brand goals, customized approaches are a good way to augment revenue  as the digital realm becomes more effective both as a tactical channel and a mass brand-building platform. MacPherson says, "Even in the programmatic space, the ability to create bespoke campaigns means working with clients much closer across our platforms."
Take, for example, the recent COVID-19 pandemic. "We have a number of clients using our health specific contextual segments to avoid COVID-related material," says MacPherson. "On the other hand, we also have a client using our health specific contextual segments to actively target material with public health messaging."
Depending on the brand's communication objective and core values, MacPherson says the ability to target specific topics within digital platforms has allowed advertisers who would normally be hesitant to buy campaigns within news, to reach Canadians they otherwise would not have access to.
The declining availability and looming extinction of third-party data is just one of the factors that makes solutions like CBC's Contextual Intelligence more significant now. It ultimately helps Canada's public broadcaster provide an optimal audience experience and a less cluttered brand environment, where no one is lost in a myriad of ads.
CONTACT
Jeff Macpherson
Director, Monetization platform and services
jeff.macpherson@cbc.ca