Canada's four big broadcasters get behind HireBIPOC initiative
Network execs say this could be a step toward ensuring more diversity onscreen – which is also a win for brands.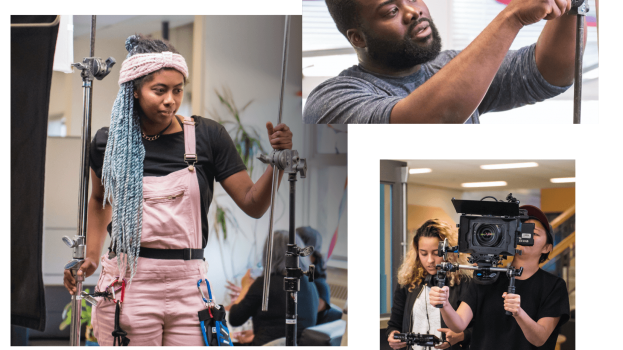 Bell Media, CBC/Radio-Canada, Corus Entertainment and Rogers Sports & Media have joined forces to launch an industry-wide initiative in Canadian film and TV called HireBIPOC.
Officially launched today with more than 500 registered members from media organizations, production companies, industry associations and more, the broader goal of the initiative is to increase opportunities for Black, Indigenous and people of colour in front of and behind the camera. HireBIPOC includes a website for both BIPOC looking for work, and production and media companies looking for talent. It includes a database of BIPOC creatives across all disciplines.
In particular, the four major broadcasters have committed to making the use of the HireBIPOC resource site a specific condition of greenlight for original productions, ensuring that the site is used by internal groups and external companies. Together, they are promoting the use of HireBIPOC and other similar resources to improve diversity and representation in the industry.
Rogers Sports & Media president Jordan Banks says HireBIPOC is a strong complement to another initiative it recently launched, which will see the company donate a minimum of $10 million in free advertising and creative services over the next five years to both charities and small businesses that support equity-seeking communities. Banks says the initiatives have come from active listening to both its partners and its internal teams. He adds that "there is still much work to be done," but these are among the steps the industry can take.
Catherine Tait, president and CEO of CBC/Radio-Canada adds that the new database "will ensure greater access and exposure for more racially diverse producers and creatives."
Since the late May police killing of George Floyd and subsequent global protests against systemic racism and police brutality, most corporations including media companies have acknowledged a need to do better in terms of their impact on marginalized and racialized communities. At the June online Upfronts, networks used a portion of their presentation to discuss representation – both onscreen and off – and their goals to do better.
Some buyers have told MiC and sister publication CARD that there might be some additional heat and scrutiny from marketers as they look to align their buys with TV shows previously considered safe bets.
For example, Tonia Beale, director of trading at Mindshare's Excelerator Media, said in a previous interview some buyers are taking a more cautious approach that might include asking for scripts or synopses of episodes prior to advising buys against programs. This includes programs that portray BIPOC in a negative or stereotypical light or promote harmful tropes. "They might reconsider things like, if there are minorities on the shows who are not treated fairly, or are portrayed in an unflattering light," said Beale.