Hudson's Bay goes digital-first to mark customers' 'homeiversary'
The retailer's full-funnel campaign is supporting customers' at-home buying to improve their "sanctuaries."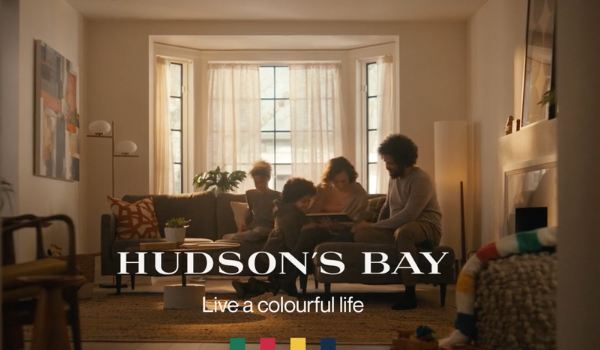 Hudson's Bay is putting a digital-first, full-funnel campaign behind a new contest and video designed to recognize and appreciate the people and places who have kept us together since last March.
As part of the brand's ongoing "Live a Colourful Life" platform, the retailer has also launched the "Homeiversary" contest, featuring giveaways and content meant to commemorate how our home's have been "a sanctuary" for Canadians over the last twelve months.
"We are driving our business with a digital-first strategy, and are equally focussing our marketing buy on a high blend of digital media tactics," Jaclyn Sutton, VP of integrated marketing at Hudson's Bay, tells MiC. The brand is working with Cossette Media, which is helping to activate a full-funnel media buy incorporating spend across TV, YouTube, social (Instagram, Facebook, Pinterest), shoppable video, native display and search channels. Momentum Canada is the AOR for Hudson's Bay.
Sutton adds that a majority of the brand's campaigning leans on paid support, bolstered by organic social, alongside on-site and email marketing.
According to Sutton, the increasingly full-funnel approach is meant to reach and convert consumers that have spent significant time and money throughout this year, specifically when it comes to upgrading and renovating their homes, the majority of which is being done online.
"With the 'Homeiversary' campaign, we are tapping into a moment to show that despite the year we've had, we still believe you can 'Live a Colourful Life' at home," Sutton explains. "We believe that all Canadians should surround themselves with what they love, from people, to fashion, to beauty, to stylish and quality products for their homes."
Building awareness and engagement around that message required an integrated campaign, Sutton says. Through a focus on YouTube for the 'Homeiversary' video, along with social contesting and paid support, "we are able to continue the engagement on social media in a very relevant way."
The 'Homeiversary' contest started last week, featuring daily giveaways through March, via Hudson's Bay Instagram channel.
Sutton says the brand is making a concerted effort to "elevate our top-of-mind awareness of Hudson's Bay among millennial style-seeking customers with our stylish, quality products across the house."