Cannes 2021: Canadian agencies win three Media Lions
PHD's Caroline Moul explains what the jury saw as it decided this year's winners.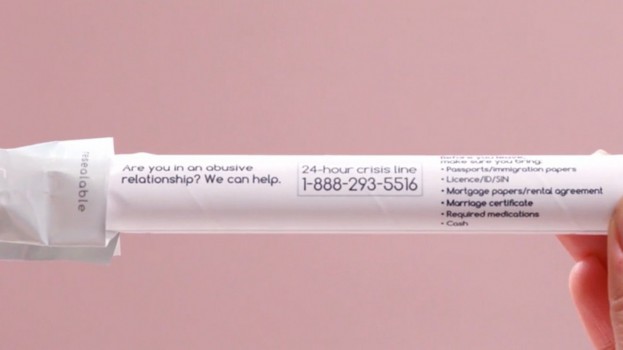 The second day of Cannes Lions 2021 brought with it three Lion wins in the Media category for Canadian agencies.
Interval House's "Freedom Tampons" campaign netted Toronto creative shop Union a Silver Lion in the Media category. The campaign included the creation a line of menstrual products that gave women instructions on how to remove themselves from abusive relationships, unnoticed by their partner.
Taxi and media agency partner Media Experts also won a Bronze Media Lion for Covenant House's "Shoppable Girls" campaign, which aimed to educate young people on human trafficking through a bait-and-switch ecommerce platform.
Rethink also won a Bronze Lion for the "Brutal Postings" campaign for Foundation Emergence, which turned the hate speech easily found online into posters – and made a point about the moderation on social platforms when the ads were promptly taken down by officials in Montreal.
Below, PHD president Caroline Moul offers her insights about the trends and standout work that emerged during judging this year. For coverage of the other categories at Cannes Lions 2021, check out strategy.
Inside the Jury Room
By Caroline Moul, president, PHD Media
It was an honour to be selected to help judge the Media Lions. And despite being a major time commitment on top of an already busy schedule I jumped at the opportunity. Spending time with some of the best work from around the world was truly inspirational.
This year's Cannes Lions spanned a two-year period of work, pre-COVID, response to COVID, and the new normal. The quality of the cases varied greatly; the weakest area within judging tended to be in the results, most relying on media metrics and not tying to business results or impact on brand. It's a shame, because while it's a major task to successfully bring together creative and analytical mindsets, I truly believe this represents a key opportunity for advertisers.
The category that stood out the most for me was Audio. The creativity and uniqueness in how a brand can leverage audio to create an experience came through in such an impactful way. Some of my favourites were "Hum to Search" from the U.S., "Slow Down Songs" from Australia and "Silence" from Brazil.
The Culture category also left me awestruck. Whether in an effort to end violence against women or challenging cultural norms and even language itself, brands stepped up to take on societal challenges on a global level. The work was impressive and delivered marked results.
When it came to the quality of the cases, in comparison to other years, and the spectrum of cases I reviewed, there wasn't much invention of a new media space. Although a few countries consistency delivered creativity in media such as New Zealand, Australia, and the Middle East.
For those thinking about the next big campaign to enter with, put attention into how the campaign succeeded in achieving not only the marketing objective but the business objective at hand. To understand the benchmark of Lions worthy, I strongly recommend you find the time to watch some of the winning campaigns.
Congratulations to all the great Canadian work that shortlisted and won.
Juror Pick:
Tena "Despair No More" by Impact BBDO Dubai & Zenith Dubai
Country: Dubai