Microsoft adds 14 content partners with latest Xbox Live update
Expanded OTT television and video content will be made available to Canadian subscribers, including MLSE sports channels, Rogers On Demand and MSN Canada.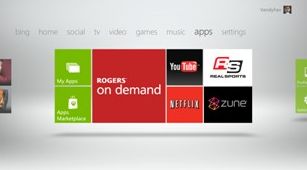 The much buzzed-about dashboard update for the Xbox Live service launches Tuesday, and with it, an expanded content platform for the Xbox Live service in Canada.
Microsoft has partnered with 14 content providers to provide access to on-demand movies and television, as well as live TV streaming services and internet video. Apps from these providers will be rolled out over the next few weeks.
Xbox Live content is offered on a tiered subscription basis – free and paid, or "Gold." Access to Netflix and other content services available through the dashboard must be subscribed to externally. TV and movie services in the XBox Live service are available to Gold subscribers only.
MLSE TV channels like Raptors NBA TV, Leafs TV, and GolTV Canada (exclusive to Xbox and in HD for the first time in Canada) will be available for streaming in the coming weeks. A UFC app providing pay-per-view access will also roll out.
Astral's Disney XD app will showcase a selection of episodes from popular Disney shows, and will feature advertising to promote new episodes and shows that will be available for future watching.
Rogers-On Demand will be available only to current Rogers subscribers, who can login to the ROD app using their account information.
YouTube has also signed on as an official content partner with Microsoft, and will be accessible through an app on the dashboard. Previously, users had to access YouTube content directly through the site.
Microsoft has also integrated its ZuneVideo app into the dashboard, for paid TV shows and movies access, but live streaming of Zune music requires a separate Zune pass. Sony Pictures' Crackle will offer a back catalogue of movies and television shows that will stream for free, with advertising.
Other services that will become available in Canada are VEVO and TMZ.
Also part of the dashboard update is the deeper integration of Kinect. Users will now be able to fully navigate the interface using voice commands and hand motions, instead of using Kinect only some of the time and in a separate hub in Xbox Live. The integration with Kinect applies to the Bing search function as well.
Saying "Xbox, Bing, [search term]" will bring up results for all content related to the search term that is available through Xbox Live. Purkiss adds that if a certain movie or television show is available through two partners – for example, ROD and Netflix – results will come up for both so that the user decides from where to access the content.
He says this type of user-controlled experience – including the expanded VOD offerings – are part of driving the shift from Xbox 360 as solely part of the gaming experience into a more rounded device for accessing entertainment and social interaction. Windows Phone users will also be able to download a free app with which they can control their Xbox 360 and and find Xbox Live content.
From Playback Daily