The year's best: MiC and strategy's top picks
The MiC and strategy editorial team list their favourites from the Canadian advertising and mediaverse in 2011.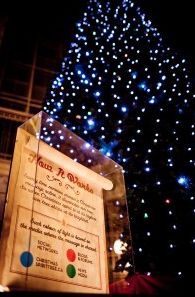 The course of the media and advertising universe never runs smooth, and 2011 was certainly no exception. Media mergers, CEO musical chairs and the omnipresent necessity of doing digital and analytics better than ever were just some of the stories keeping us at Media in Canada busy over the past year. But, as always, some work stands out more than others. So, the Media in Canada and strategy staff have picked some of their favourite media executions and brand campaigns from 2011.
Mary Maddever, executive editor, strategy, Media in Canada, stimulant: Perhaps I'm influenced by the fact that it's the Festive Special time of the year, but my pick for favourite media idea in 2011 is the Swiss Chalet chicken channel from MEC and BBDO Toronto.
While few brands could dare enter the iconic territory of the 45-year-old Yule Log, a half dozen chickens roasting on a spit, especially chickens with delicious dipping sauce, were able to play in that space, parlaying their mesmerizing rotisserie ways into more fans and orders for Swiss Chalet – not to mention the tweets.
The Rotisserie Channel, featuring around-the-clock roasting chicken coverage, debuted last Feb. It had a faintly ironic charm (but not over the top like holiday sweaters on hipsters) and used old media in a new viral way. Plus, there were coupons to be had. A randomly appearing promo code drove rotisserie fans to Swiss Chalet's Facebook page to claim various deals via customized coupons.
The idea came out of BBDO's TV creative, where a Swiss Chalet employee fantasized about an all-chicken channel on TV. MEC then took up the challenge of bringing it to life – via Rogers digital cable. Former MiC managing editor/current Playback editor Katie Bailey broke the story, and as word spread "Swiss Chalet" and "Rotisserie" trended on Twitter. The agency took the conversations wider by creating an online video featuring actual tweets, and The Rotisserie Channel lured its audience in via an integrated campaign  – TV, newspaper, online and billboard – with the "trailer" making the social scene via YouTube and Swiss Chalet's Facebook page and website.
Did it work? The goal of 10,000 coupon downloads over the three-month life of the RC was exceeded in the first week and chicken delivery orders soared 30%. Over five million "likes" on Facebook, 28,000 new friends, 8,224 screen saver downloads later, it was deemed a hit, earning over 36 million free media impressions.
The iconic Yule Log program itself was an idea sparked by a TV commercial, an animated Coca Cola spot with Santa and a fireplace. WPIX station owner Fred Thrower thought it would be a great idea to film a fireplace and add some festive music as a present to all the New Yorkers without fireplaces, and enable him to give his morning show staff a day off at Christmas, and thus a tradition was born in 1966. When it was cancelled in 1990 by a station manager who felt going commercial-free wasn't such a hot idea, a Bring Back the Log movement sprung up and eventually got the show re-instated a decade later. Just sayin', sometimes history repeats itself.
Emily Wexler, associate editor, strategy: Canadian Tire is one of those brands that reminds us of home (even when we're away from it), so when it became an actual neighbour to Canadians on one particular street this year, it was one of those ideas that never crossed our minds, but made total sense. Winning Gold at strategy's B!G Awards this year, the House of Innovation was a first in Canada – a retailer becoming an actual homeowner, using that home to film DIY instructional videos using Canadian Tire products (showing off how innovative they are, naturally). The vids were hosted online and had a monthly average viewership of 80,000 (by mid-August), plus plenty of social media buzz as consumers shared their own tips. It was a smart way to engage their target online in a way that stayed true to the brand. I also loved how Canadian Tire kept up the momentum by decorating the house for Halloween and handing out candy (just as any good neighbour would do).
And although it's a separate initiative, I have to give Canadian Tire props for their "Spirit Tree" in Toronto's Union Station that lights up based on social media and news mentions of the holiday season. When you have a CP24 reporter repeatedly saying "Christmas" over and over on-air to get a light to shine, you know you've broken through.
Katie Bailey, editor, Playback (former managing editor, Media in Canada):
I've said it before, I'll say it again: I loved the concept of Recipe to Riches from Temple Street Productions. I think the retail tie-in was organic, unique and forward-thinking and the best part is, people watched it. The show itself was well-executed, with great personalities and enough drama to keep things interesting, and the prize was substantial enough to create real tension for the win. And who didn't love 82-year-old Glo sweetly stealing the prize from all the young 'uns with her Luscious Lemon Pudding? On the retail side, Loblaw did a great job promoting Recipe, with brightly coloured boxes for the products – featuring great caricature graphics – and in-store racking and signage that stood out amidst the clutter of the grocery store aisles. Additionally, Loblaw utilized its massive reach by including Recipe promotion it its flyers, putting the show literally in the homes of millions. Smart and well-executed from all corners.
Jonathan Paul, senior writer, strategy and managing editor, Stimulant:
The fact that the Skittles "Cat" viral vid, part of the brand's "Touch the Rainbow" campaign, is bat-shit crazy (a man-cat licks your finger) is reason enough for me to pick it as one of the year's best.  Knowing that it also won Skittles and BBDO Toronto, the brains behind the spot, heaps of awards, including a few Gold Lions at Cannes, certainly doesn't hurt. The real beauty behind it, however, is that it got viewers to interact with online video in a completely new way, making them (or more accurately their fingers) players in the spot, and it did all of this while maintaining the tone that Skittles advertising has been all about in recent memory (see bat-shit crazy).
Megan Haynes, special reports editor, strategy:
I really enjoyed the Boston Pizza name change during the NHL finals this past year – considering the quick turn around, I thought it was impressive. During the playoffs when Boston and Montreal, and then later Boston and Vancouver, squared off, the ever-patriotic pizza chain crossed out "Boston" from their name replacing it with the Canadian cities. The stunt, with media by Touché! PHD was huge on Twitter – how I originally heard about it –  and tugged at my hockey-loving (during the playoffs, anyways) heartstrings.
Val Maloney, associate editor, Media in Canada:
Coca-Cola Covers is a campaign I referenced regularly this year as a great example of cross-platform integration and it's also my overall pick for 2011. The program asked Canadians to upload videos of them performing covers of one of a few songs with the possibility of winning the prize for Best Cover at the MuchMusic Video Awards in June.
Working with UM on media, the campaign used the online sphere and music to speak directly to the brand's target market of teens and young adults for the first time, according to Carolyn Harty, senior manager, brand strategy, Coca-Cola Trademarks.
The campaign drew more than four times the targeted music video uploads from the target market and plans are in the works for a 2012 edition of the program which further integrates the user generated content.