Spotted! Subway commits random acts of fitness
The QSR, in support of its "Commit to Fit" program, left ten unbranded treadmills on school campuses for students to try out.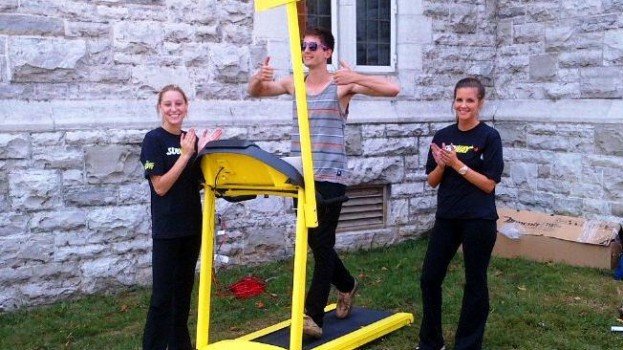 Subway is on the verge of wrapping up its inaugural "Commit to Fit" program that has seen over 200,000 squats, yoga poses and jumping jacks completed and recorded (on Facebook) by Canadians over the course of the summer.
And just recently, in one of the last rounds of activations promoting the healthy living initiative, the restaurant chain left  unmarked yellow treadmills on ten different campuses across the country. Keeping hush about who placed the exercise machines, brand ambassadors waited for students to initiate a "random act of fitness" (by using the machine) and then revealed themselves and the reason behind the stunt.
Between 150 and 200 people engaged with the brand reps during last Friday's lunch hour, and promotional material such as t-shirts and Subway cash cards were given to those who spent a few minutes on the treadmill.
"Subway's goal was to extend the buzz around the Commit to Fit program," Kathleen Bell, director of national marketing, Subway Canada, tells MiC. "It was just to show how small and how rewarding a little act of fitness can be in your life."
Another experiential tactic, in the form of a random flash mob in British Columbia, was used to promote the Subway program earlier this summer, says Bell. Employees from franchises in the region approached people in parks during their lunch hour to invite them to join a quick aerobics session.
Traditional marketing in the form of radio, digital and TV ads further supported the program with Carat on the media buy and KBS+P on the creative.
A  contest has been running since April, with consumers eligible for a prize of $10,000 if they "like" the brand's Facebook page. The page has seen an increase of almost 350,000 "likes," and the contest will continue to run until Sept. 30.