Blog: Mobile World Congress moves from the handset to mobile computing
Juice Mobile's CEO Neil Sweeney wraps up the week, saying Samsung leads the way with innovative launches in Barcelona.
Neil Sweeney, president and CEO of Juice Mobile, is in Barcelona this week at the Mobile World Congress and is bringing the biggest headlines to MiC readers by blogging from the event.
It goes without saying that consumers and tech analysts expect new handset releases at Mobile World Congress, the world's premier mobile industry event. This year's show featured much of the same, but walking the floor at MWC, the real trend is the connected world: integrating mobile with television, fitness, cars, commerce, homes and daily routines.
Samsung is leading the way. Its strategy is to connect mobile devices to the ecosystem from the outside-in, distinguishing itself from how Apple and Google connect from the inside-out. In other words, while Apple and Google connect to consumers via the operating system, Samsung connects via its devices. Yes, I do realize that Google presently powers the majority of Samsung devices, but who has the negotiating power in this relationship? I would suggest that this is moving more towards Samsung harnessing the ecosystem and devices they have. Think about it, why is it hard to move to a handset that is not one of the big two? Namely because you'd be giving up the ecosystem that is attached to Google and Apple. No iTunes, no apps, etc.
Samsung launched numerous products this week at MWC that speak directly to the connected world. The company launched Knox, which neutralizes the BYOD (bring your own device) trend in the workplace by partitioning your phone to be split between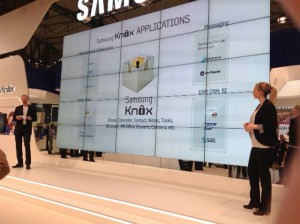 personal and business profiles. Samsung also launched the Homesync 1G Media Station, a home cloud solution that connects to your Samsung phone via Bluetooth and Wi-Fi. More importantly, this personal cloud also connects to a regular TV – not just a smart one. I suspect that they are doing this to get more scale in the connected device space, which only enhances their position.
In the automotive category, Ford Motors notably announced its new Ecosport SUV, which will include its SYNC AppLink system in the European market. This system allows drivers to control mobile apps via steering wheel, radio or voice controls. Ford also revealed a new partnership with Spotify to enable in-car music streaming with the subscription-based service (these products are not available in Canada yet due to legal and regulatory barriers).
Canadian consumers need not worry, these products will reach our market and the overall trend suggests that everything in our lives will be connected moving forward. Keep watching as mobile-integrated consumer products become huge selling points for marketers. Once consumers get behind millions of mobile-activated products en masse, expect the floodgates to open on spin-off software geared to monetize the mobile marketing and advertising space. This is just the beginning.