Spotted! Pepsi opens pop-up lounge
The space invites visitors to take the classic Pepsi Challenge, and will feature appearances and live performances by musical guests like Lights and Karl Wolf.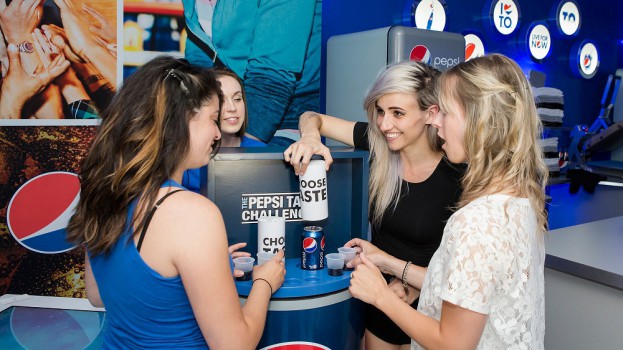 Pepsi is bringing back the classic Pepsi Challenge and building on its "Live for Now" brand message with the opening of its own pop-up space in Toronto.
With media by OMD, creative by BBDO and experiential by SDI Marketing, the pop-up space, which opened Wednesday night with an appearance Canadian indie pop darling Lights, invites passersby to stop in and take the Challenge, as well as kick back and relax with friends while listening to music.
Visitors will also be able to win custom-made Pepsi t-shirts, snap their photos in a photo booth and share them with friends, and take in live performances from musical guests like The Cayucas, The Summer Set and Karl Wolf, among others.
The pop-up space is being promoted through a partnership with Virgin Radio, which will see some of its on-air talent make special appearances, as well as through Pepsi's social media channels.
Ryan Collis, director of marketing, Pepsi, tells MiC that the pop-up space is part of Pepsi's long-term, on-going strategy to keep the brand at the epicentre of pop culture. He says this is the first time Pepsi has launched a pop-up space like this, adding that it was important to do something innovative in the summer, which is an important season for the brand.
The Pepsi pop-up space will be open at 315 Queen St. West in Toronto until July 26. Pepsi will also be hosting Taste Challenges at 1,000 events over the summer.
Photo: Lights hosts the Pepsi Taste Challenge at the Toronto pop-up space.