The Blacklist takes Monday night: Fall TV
Global's new drama nabbed 1.9 million viewers as MiC runs down the ratings from the first night of premiere week, and matches them against upfront predictions from June.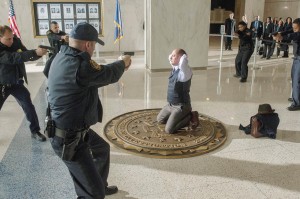 Monday night kicked off 2013′s fall season with a win by Global's new FBI crime drama, The Blacklist at 10 p.m., taking the most viewers for the night with 1.9 million (2+).
Bailey Wilson, director of investment at J3, saw the writing on the wall last June, when strategy magazine asked her to predict the winner of the night in its annual "Fall TV battlegrounds" feature.
"If NBC's 10 p.m. timeslot was enough to keep Revolution around last year, The Blacklist will be an even bigger success," she said.
It was, however, a close call. The James Spader-starring drama was up against CTV's new Monday night thriller Hostages, which stars Dylan McDermott and Toni Collette and brought in 1.2 million total viewers for its first episode.
While Bailey takes the win for the prediction, Atreyee Dey, group director, PHD, points out that both shows are high quality and have the goods to last.
"Hostages has great pedigree with Jerry Bruckheimer, and this show provides good competition for The Blacklist, which I also think is going to stick around even though both of these are running at the same time on Mondays," said Dey after the upfronts in June.
Earlier Monday night, the two-hour premiere episode of a new season of The Voice brought in 1.8 million total viewers on CTV. A new episode of Bones on Global brought in 1.7 million viewers at 8 p.m. The season premiere of Dancing With the Stars brought in a total of 928,000 viewers on CTV Two, climbing 9% in the second hour.
On City, the one-hour season premiere of the final season of How I Met Your Mother at 8 p.m. brought in a total of 1.1 million viewers.
The second episode of new drama Sleepy Hollow at 9 p.m. brought in 1.4 million viewers on Global, up against the second hour of The Voice on CTV and the premiere of a new season of 2 Broke Girls on City, which brought in 1.2 million viewers. New Anna Faris-starring comedy Mom brought in 1.1 million viewers at 8:30 p.m. on City, while for The Project: Guatemala at 10 p.m. on City and OLN, the total viewer count was 138,000 for both channels combined.