Spotted! Microsoft brings Xbox One to Toronto
The last stunt in the electronics co's "One Source" campaign in Toronto was its biggest yet and included a battle between soldiers and barbarians and on-site sword lessons.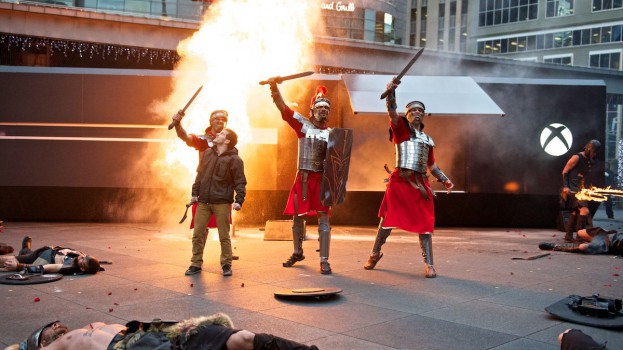 With only days to go until the Xbox One goes on sale in Canada, Microsoft Canada continued to build on its momentum with yesterday's unveiling of the "One Source" campaign's latest experiential activation, which saw a horde of barbarians emerge from the giant Xbox in Toronto's Yonge-Dundas Square.
Promoting the upcoming title Ryse: Son of Rome, the activation included an army of Roman soldiers, who came to save the day, as well as a pyrotechnic spectacle that featured fireworks and flaming swords and arrows.
The experience, which was unlocked by fans who pledged their gamer tags on-site, online or on their Xbox Live dashboards, also included a number of fan activations, like opportunities to play upcoming game titles and chances to get photos taken against a green screen with a barbarian or get sword lessons from the Roman soldiers. Randomly selected fans were also given a VIP invitation to special feast.
Toronto is the third market in which surprise Xbox One Source activations have popped up. In Montreal, the brand promoted Forza Motorsport 5 and gave select fans an opportunity to test drive race cars. Meanwhile, in Vancouver, Microsoft unleashed the undead on Halloween to promote the upcoming release of Dead Rising 3 and had an actor dressed as the game's main character to fend off the horde.
The activations are all part of the brand's larger national campaign, which includes media by SMG, experiential by Mosaic, creative by Wunderman and digital by TraffikGroup. The campaign also features a TV spot adapted for Canada with creative by CP+B.
Nicole Fawcette, category manager, Xbox games and accessories, Microsoft Canada, tells MiC that the campaign is the largest ever for the Xbox brand, noting that the strategy was to make the Toronto activation the biggest to date to help continue building the fan-generated buzz and reward fans for their loyalty to the brand.
The experiential activations are being promoted through Facebook and Twitter, as well as Xbox's owned properties, like its website, its newsletter and the Xbox Live dashboard. Additionally, Xbox has released two-minute videos that capture its One Source activations to help build additional buzz for upcoming stunts.
With the Xbox One slated to go on sale at midnight on Nov. 22, Fawcette says Xbox still has some surprises for fans hidden up its sleeves, but would not offer any more details.