Unexpected activations you may have missed
From brands using Tinder to dispensing wrapping paper, David Crammond of MEC Canada and Tammy Gardner of Touche! weigh in on some inventive activations that happened over the holidays.
Getting the public's attention in a media-saturated world can be challenging at the best of times, let alone during the busy holiday season. To stand out in the crowd, some advertisers are putting their brands in places where consumers might not expect to see them, and in forms that might take them by surprise. Characters from The Mindy Project getting dating profiles, Coca-Cola distributing wrapping paper and Motorola's colour-changing print ad were some of the executions that caught our attention over the holidays.
Here's what David Crammond, SVP, managing director of trading and operations, MEC Canada, and Tammy Gardner, group account director, Touche! had to say about the activations.
The Mindy Project joins Tinder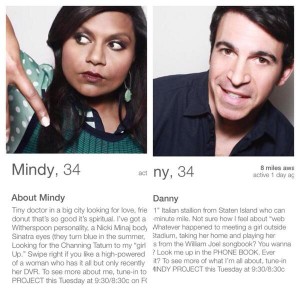 Characters from the Fox sitcom got their own profiles on the dating app. Users who swiped right on the actors' pictures (meaning they liked what they saw) were treated to a few flirty lines of pre-programmed chat before being prompted to check out the show.
Crammond: I think this activation feels a little forced and lacks originality (it was done last year for Suits). Although the personal ad is funny and would likely appeal to viewers of the show, the blatant push-to-watch doesn't really have a payoff for the consumer – except that they don't actually have to date Mindy.
Gardner: Although I find it interesting, I also believe it to be a bit misleading to people who are in search of true love or friendships. Tinder is an online world where people are looking for real connections and by intertwining made-up characters in the mix, you further perpetuate the idea that fake profiles online are okay, so I think it gets into muddy waters.
Over the holidays, Duval Guillaume Modern and Clear Channel created a special shopping mall billboard for Coca-Cola that dispensed wrapping paper across major cities in Belgium, helping shoppers wrap their gifts and bringing their "open happiness" message to living rooms on Christmas morning.
Crammond: With all of the new digital OOH in the marketplace, it is interesting to see that this kind of "low-tech" execution can be interactive and engaging, although I'm not sure I would gain too many points at home if I wrapped my gifts in a Coke wrapper.
Gardner: This is my favourite of the three. It leaves people with a positive brand experience, with the idea of sharing and giving something back. It's also interactive with multiple touch points; not only was it executed in malls, but through the entire gifting funnel, all the way to the recipient. The concept is also very relevant to all consumers, creating an opportunity to connect with the masses.
Motorola Moto X colour-changing print ad in Wired
Using tiny LEDs, Motorola lets magazine readers select different colours for the Moto X handset, pushing the limits of what's possible in print.
Crammond: This feels like an advertiser (or agency) doing something different just for the sake of it.  The technology is fantastic but the product doesn't fit the execution. Phones actually come in different colours?? I can probably imagine what the back of a red or blue phone looks like without seeing it. Apparently I can even go back and look at the ad months later.  But why would I do that?
Gardner: Although I do find the Motorola Moto X colour-changing print ad interesting, I do wonder exactly how many people may miss out on the uniqueness of the advertisement, as there is nothing in or around the ad to indicate that it is something special or different. Might have been better executed in other media such as OOH (transit shelters, malls, etc.) closer to point of sale.