CBC goes cross-platform for Sochi sponsorships
Using a responsive ad server for the first time, the network's Olympic partners will activate on whatever screen the viewers choose to use.
Whether Canadians watch tomorrow's opening ceremony on television, a smartphone or tablet, CBC's Olympic sponsors will reach them.
For the first time CBC is using a completely responsive ad server throughout the Olympics. The creative for over 25 sponsor campaigns has been optimized for desktop, smartphone and tablet screens.
"That's how we started the conversation with sponsors. The audience moves across platforms throughout the day, we don't want (our sponsors) to have to guess where the audience is going to be," says Jon de la Mothe, director, media innovation and technology, CBC, adding that all the advertisers are participating in the cross-platform buy.
De la Mothe says that the audience flow across devices throughout the day was the story that shaped its presentations to sponsors approximately a year ago, and shared this chart (below), based on three months of CBC data that shows how device usage peaks at different times of the day. De la Mothe says that the fears that new devices would cannibalize time spent on traditional platforms have mostly evaporated for clients, as CBC research shows that using more devices is more likely to increase an individual's overall time spent.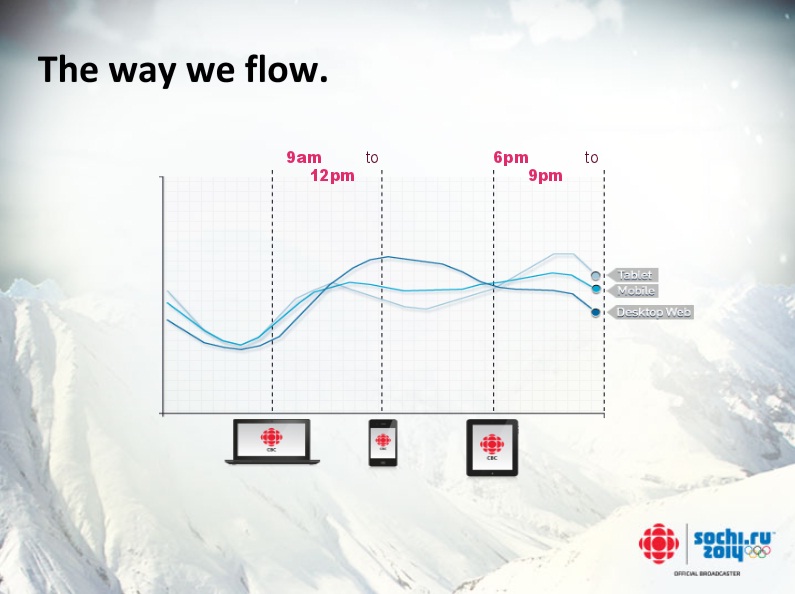 Sponsor digital activations include Sochi Stars, a daily poll optimized for mobile sponsored by Samsung that will be promoted across platforms. Procter & Gamble is sponsoring Primetime Plus, the second screen experience to run during Olympic Primetime on CBC. P&G's brands will be integrated with the polls, photos and social media content. Sport Chek has sponsored a content-rich website called The Olympians featuring videos, photos and stories about 32 athletes who are medal hopefuls or have a unique Olympic story.
De la Mothe says that CBC's team worked with various sponsors to create sharable content, including Home Hardware-sponsored infographics to be released before every Team Canada Hockey Game, and Chevrolet's Canadian Trail feature that aggregates the best social content that athletes, fans and media personalities post to Twitter and Facebook.
In addition to broadcasting on CBC, Radio-Canada, TSN, TSN2, Sportsnet, Sportsnet ONE, TVA Sports, RDS and various digital platforms, CBC/Radio-Canada has secured licensing agreements with Bell Canada, Rogers Communications, Telus Optik TV, Videotron and the Canadian Cable Systems Alliance to feature content from the Games "top of menu" through their respective on-demand platforms across devices. The broadcaster has also struck deals with online video portals including YouTube and MSN.ca to host content.