Rogers and Scotiabank ink six-year NHL sponsorship deal
The retail bank retains its title sponsorship of Wednesday Night Hockey as well as presence on Saturday and Sunday hockey coverage.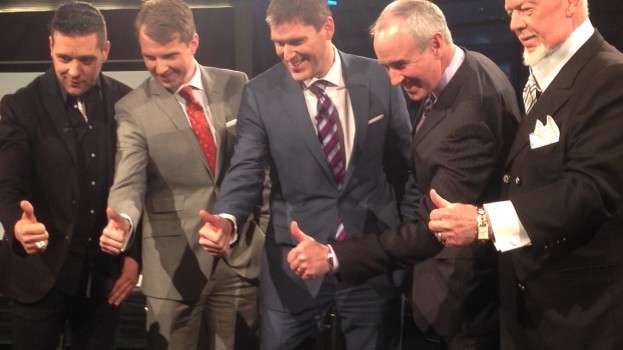 Rogers and Scotiabank have signed a six-year multi-platform sponsorship deal for the media company's NHL coverage.
The bank will retain title sponsorship for Wednesday Night Hockey, which now airs on Sportsnet as well as Hockey Day in Canada, both of which it was already sponsoring with the CBC. Scotiabank will also be a presenting sponsor of Sunday Night Hockey on City and be featured as a sponsor throughout Hockey Night in Canada broadcasts. The deal includes the opportunity for a Scotiabank sponsored minor hockey team to introduce Hockey Night in Canada every Saturday night.
Prior to this deal, Scotiabank had been the title sponsor of Wednesday Night Hockey on TSN since October 2013.
The deal runs from the 2014-15 season through 2019-20, and includes the Stanley Cup Playoffs and Stanley Cup Final. Financial terms of the deal were not disclosed.
As part of the deal, Scotiabank has committed to spending an undisclosed amount on advertising within Rogers' other media assets throughout the duration of the agreement. Specific activations and titles for that spending have not yet been determined, according to a Rogers spokesperson.
The agreement will also see Rogers and Scotiabank develop a range of "fan initiatives and community programs" over the course of the six-year deal. Details will be announced in the coming months, according to a press release.
A Rogers spokesperson also confirmed that title sponsorship for other NHL broadcasts are available as an option to sponsor partners, though the media company says it has no plans for a title sponsorship of the iconic Saturday night Hockey Night in Canada broadcasts for this season.
As the official bank of the NHL, Scotiabank is no stranger to the hockey space having signed a sponsorship deal with the Edmonton Oilers in January and released NHL-branded debit cards in October 2013.
This is the second major Canadian sports sponsorship agreement to be announced this week. The deals comes on the heels of a three-year content development deal between TSN and Canadian Tire Corporation.