The Globe golden for custom content
The paper's custom content team earned five awards and four honorable mentions at this year's Content Marketing Awards, the most of any Canadian company.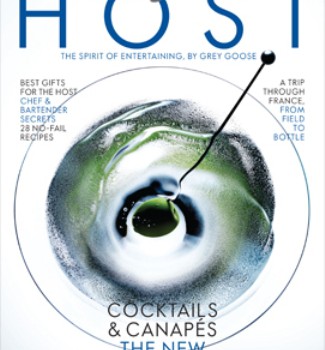 At this year's Content Marketing Awards, a global competition with winners announced at a ceremony in Cleveland, Ohio, the custom content division at The Globe and Mail took home five awards and four honorable mentions for its work this year, all but one of which going to the branded publications produced by its Globe Edge division.
Globe Edge's work won Gold for Best New Production or Publication launch in the strategy category for its work with Grey Goose/Bacardi Canada – which included a feature that won Silver for Best How-To Article – and Gold for both Best New Publication and Best New Design in the print category for its work with KPMG Enterprise. The custom content division also won Bronze for Best School/University Publication for this year's edition of the Canadian University Report, the top award given this year in the category.
Along with four honourable mentions Globe Edge earned, this brings the number of Content Marketing Awards the Globe has won for custom content to 19 over the last two years.
Also on the print side, Canadian winners included Staples (Silver for Most Improved Editorial), RedPoint Media & Marketing Solutions (Silver for Best Design of a New Publication for Calgary Foundation's Spur Magazine), with honourable mentions going to Totem for its work with CAA's Fast Forward (Best Overall Print Design and Best Use of Illustration in a Feature) and Acura's Acura Style: Spring/Summer 2013 (Best Use of Illustration in a Feature).
In digital, the Canadian Olympic Committee took home three awards for its work during this year's Winter Olympics: Gold for Best Mobile Responsive Content, Silver for Best Infographic Series and Bronze for Best Overall Design of a Website.
A pair of Canadian companies took home Brozne awards for social media: FGL Sports in Best Use of Facebook for Content Marketing for SportChek Social Flyer and Spafax in Best Use of Instagram for its work managing Air Canada's account.
Now in its eleventh year, the Content Marketing Awards are given by the Content Marketing Institute, choosing from over 1,100 entries from around the world in 110 categories. The winners were named two weeks ago, with the top three awards – for Agency, Marketer and Project of the Year –being announced at the Content Marketing World conference in Cleveland.
Even though advertorial writing was a major sticking point of this summer's contract negotiations between Globe management and the union representing its reporters, Teena Poirier, director of client engagement and custom content group at the Globe and Mail, tells MiC that 30% of its ad revenue now comes from custom content, compared to 5% when she joined the team in 2005, adding that nearly every RFP the newspaper receives from both clients and agencies now has a request for it.
Poirier says that Globe Edge – a line of business within the custom content division that goes outside of the newsroom for its team members and whose work doesn't appear on the newspaper's own properties – is a significant contributor to that growth despite only being launched last year.
"It's the best kept secret at the Globe," Poirier says. "It leverages the experience and expertise that the Globe has as a storyteller and blue-chip media brand, but it's truly owned media developed [with the client] involved in the process, unlike the other custom content products."