Spotted! A smile goes a long way
Air Miles Canada is inviting its customers nationwide to smile for the chance to win travel prizes, or get their faces on digital billboards.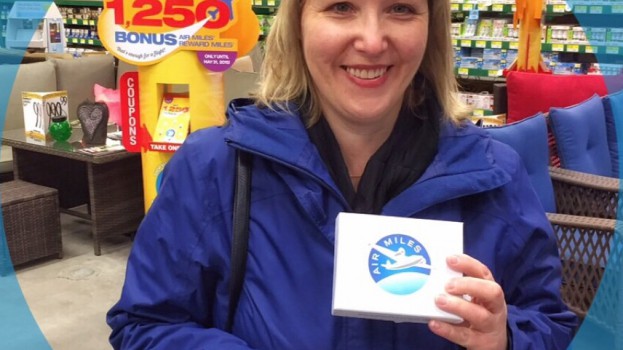 Saying "cheese" can win Air Miles collectors travel prizes or get their faces on digital billboards in the company's new #smile4miles campaign.
A new travelling "Smile Booth" activation, created by Toronto-based TrojanOne, combines smile detection technology with a touch screen that scans collectors' Air Miles cards – users simply hold their card to the screen, smile, and hope they win one of 19,000 Air Miles prizes.
The photo is also emailed to the participant, which they can share across social media, with the hashtag #smiles4miles, for an extra prize from WestJet.
The activation is being promoted in conjunction with Air Miles' "Mega Miles" event, which runs throughout May. For the promotion, point collectors must use five bonus coupons with five different Air Miles sponsors to win a free flight.
Five Smile Booths are being transported to 57 locations in 22 cities across Canada throughout May. The booths will be located in Air Miles partner locations such as Rexall, Metro, Shell, IGA and Safeway.
Visitors to the website can track the whereabouts of the nearest Smile Booth on  www.airmilessmilebooth.ca. The Smile Booths have also been given a Twitter handle (@AIRMILESbooths), allowing followers to track their progress across the country.
Over the first three days of the campaign, which began last Friday, the booths had more than 1,000 direct interactions and more than one million social impressions, says Rachel Macqueen, VP of marketing at Air Miles Reward Program.
The campaign is also being promoted via OOH, with a digital billboard activation running in Vancouver, Calgary and Montreal from May 11 to 17 followed by a Toronto campaign from May 18 to 24. The billboards will be located in high-traffic urban areas, one per city, and refresh continually with pictures of Air Miles customers who consented to having their photo used during the Smile Booth activation.
The media buy for the billboard campaign was handled by TrojanOne and uses digital billboards from Pattison Outdoor. The campaign's public relations and social media is being handled by Toronto's North Strategic.
The Air Miles Mega Miles campaign finishes on May 31 but the Smile Booths will continue to travel across Canada for the remainder of the year.