Spotted! Reese spreads out across Toronto
Hershey Canada gets its new product directly into consumers' hands with a food-truck-focused experiential campaign.
Move over, Nutella. Hershey Canada is out with a chocolate and peanut-butter-flavoured spread that will be fighting for space on grocery store shelves.
Torontonians might have spotted an orange and yellow-painted truck on a mobile mission to introduce the spreadable form of its popular peanut butter cup to Reese lovers as it launches in the Canadian market.
Media for the campaign was executed by UM and TV and OOH was handled by Havas, with Ketchum handling PR and Community Agency leading the campaign's social and experiential side.
The campaign's strategy was built around getting Canadians to share their experience of the product, according to Erin Grosberg, marketing manager, snacks and grocery at Hershey Canada. The company promoted the campaign through the hashtag #DoYouSpoon? on Twitter, and used the slogan in its experiential activations, which included the Reese truck.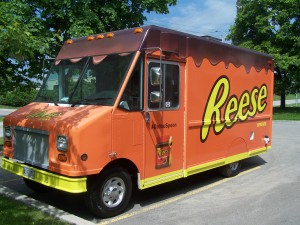 Between Aug. 6 and 12, the company introduced Torontonians to the new product by parking the truck near busy locations like Yonge and Eglington and Trinity Bellwoods Park. Reese "chefs" then allowed visitors to scoop out spoonfuls of the creamy spread and lavish it onto a Reese Spreads panini.
The experiential side of the campaign also involved a talking Reese vending machine set up beside a golden-hued giant spoon. The talking vending machine encouraged visitors to get cozy with the golden utensil in order to activate a free sample of the product.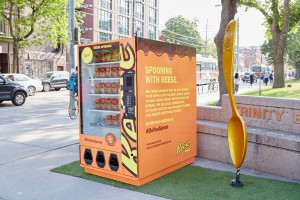 "We tapped into the insight that many Canadians also love to spoon their spreads, and this helped drive us to the 'Do you spoon' campaign," explains Grosberg. "Our #DoYouSpoon video helped to kick start virality, buzz and conversation with our fans." The campaign differs from previous campaigns executed by Hershey Canada, which have focused on more traditional TV advertising and media buying. The team focused on building a campaign with multiple touch points to drive a conversation.