Spotted! The White House comes to Toronto (sort of)
CTV's Wednesday night drama is being promoted by bringing the U.S. landmark to downtown Toronto.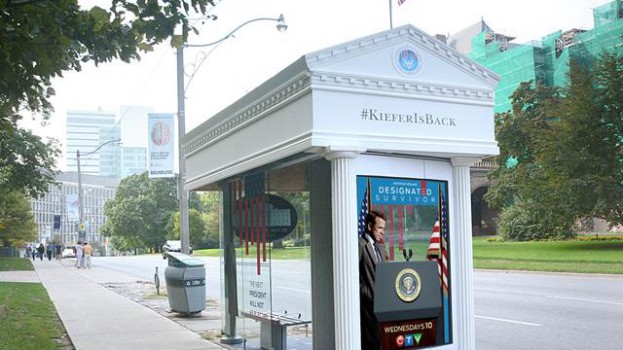 Coverage of U.S. politics in Canada feels like it's never been higher — and one Fall TV campaign is taking it one step further.
Bell Media's newest campaign, which promotes the upcoming series Designated Survivor starring Kiefer Sutherland, has turned a bus shelter (which, fittingly, sits at Queen's Park and Wellesley) into a mini White House, with columns and a roof over the top, as well as a podium on one of the side glass panels so transit-goers can picture themselves as president.
The timing — not just with the premiere of Designated Survivor (Sept. 21 on CTV), but also with the upcoming U.S. presidential election — created the perfect marketing storm, said Jordana Fatsis, VP of sales for Astral Out Of Home, which handled the campaign.
"The campaign really leverages Kiefer Sutherland, but because of the timing of the election, it fit quite  brilliantly and we were able to have a little fun with it," Fatsis told MiC.
Sutherland, who has not appeared in a recurring role on TV since the end of the hit thriller series 24, is featured prominently on all of Designated Survivor's campaign assets. Fatsis said there are several hundred posters around the city, and three additional Toronto transit shelters with American flag decals across the glass, located at Harbord and Spadina, Yonge and Castlefield and Yonge and Sheppard.
The show is also promoted by one of the superboards at the junction between the Gardiner Expressway and the Don Valley Parkway, which Fatsis said sees 130,000 impressions per day. The video board also features a simulated White House roof similar to that on the Queen's Park shelter.
The first activations for the series went live Sept. 5, and the campaign will end Oct. 3. Creative for the campaign was done in-house by Bell Media.
Fatsis said the locations were chosen to promote extra visibility to a broad demographic.