Twitter Canada unveils carousel ads
The ads, designed to keep viewers in-app, are currently in the beta stage with Canadian Tire as the first advertiser to test in Canada.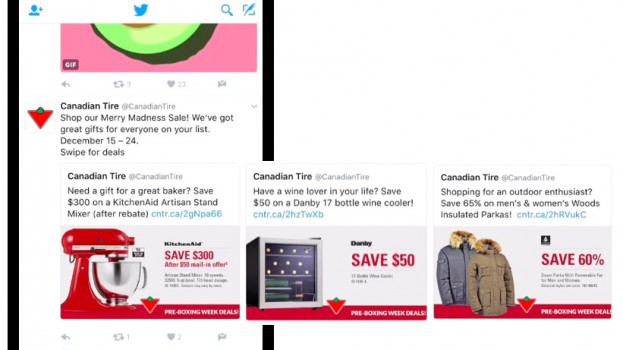 In an effort to offer advertisers more in-app options, Twitter Canada has begun testing carousel-style ads on its mobile platform. Its first partner in the beta stage is Canadian Tire, which is advertising products from its weekly flyers.
Tim Howard, client partner at Twitter Canada, said the overall aim of the carousel ads is to keep users on the Twitter ad longer to create a more cohesive experience.
"It was the same idea with Twitter moving Periscope into the native Twitter app rather than opening a new app," Howard told MiC. "There's no new screen, no new page, users just stay in that same feed in order to keep that same flow and feel."
The carousel product was announced in June 2016 and underwent beta testing in several markets, including to the U.S., prior to its arrival in Canada.
While Howard did not have exact results for the U.S. roll-out, he said it was "highly successful."
The ad format may be new to Twitter Canada, but plenty of social media platforms have rolled out carousel advertising in recent years. Earlier this year, Instagram rolled out carousel units for photo and video ads, while Facebook unveiled the feature in 2015.
For Canadian Tire, the carousel option is seen as a natural extension of its print flyer business. Brandy Barrie, social media manager for Canadian Tire, told MiC that although Canadian Tire isn't moving any spend away from traditional print flyers, the company is always looking for ways to supplement.
"We have been doing a lot more with digital, such as the launch of our Wow Guide earlier this year, which was an attempt to bring our catalog experience online," she said.
While she said Canadian Tire's overall target is families, the products featured in the carousel ads will differ based on targeting for geography and age.
Canadian Tire worked with Touché on the carousel ads, which will be tested over the next two weeks.
Twitter Canada wouldn't say when carousel ads will be available to other clients in the market.