Spotted! Bell courts basketball fans
In an effort to promote its FibeTV service as well as its Toronto Raptors sponsorship, Bell is bringing the court to the fans — and the fans to the court.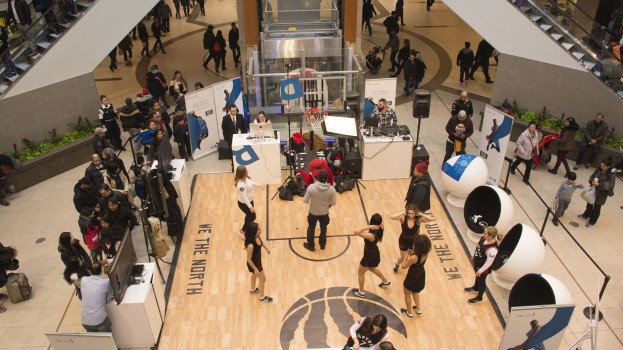 In an effort to promote its FibeTV service and its partnership with the Toronto Raptors, Bell Communications has been taking to some of the GTA's biggest shopping centres to bring fans to centre court.
So far, the telco has travelled to Markham, Ont.'s CF Markville and Toronto's Scarborough Town Centre. The activation is centered around a mini basketball court, where shoppers are invited to take free throws.
Christine MacDonald, associate director of sponsorships at Bell Communications, said the company wanted to go a bit bigger than it usually does with mall displays to capitalize on the city's basketball fever.
"Of course we've done mall activations before, but we've never done anything like this," MacDonald told MiC.
All participants were given prizes, ranging from touch-gloves (to use touchscreens in the winter) to Raptor's tickets.
On top of the basketball court (as well as an appearance from the Raptor mascot and the Raptors Dance Pak), Bell provided VR headsets to offer an immersive experience promoting its Open Gym channel, which is exclusive to Bell Fibe.
The two-minute experience puts the consumer in centre court as the players are being introduced into the gym and then gathering in a huddle.
"It all fits with the spirit of bringing basketball to the people," she said, adding that the company hoped to reach a good number of people who had never been to a basketball game before, which was why it chose malls as its target areas.
The activations will be rolling through four other GTA malls over the next several weeks, with Square One in Mississauga being the next stop on Jan. 28 and 29. The appearances have been promoted through boosted social media in the days leading up to the event, primarily targeting people in the area of the malls. MacDonald said that the ads are targeting people of all ages.
Bell has had a relationship with the Toronto Raptors since 2012, and it recently renewed its partnership with the team as well as MLSE and NBA Canada.
Photo by Tim Soloman