ICYMI: Jay and Dan are coming home, Makeful gets into the culinary game
In case you missed it: Anchorboys Jay Onrait and Dan O'Toole will return to TSN in September, Makeful is launching a new instructional cooking series and Twitter is adding more control for users.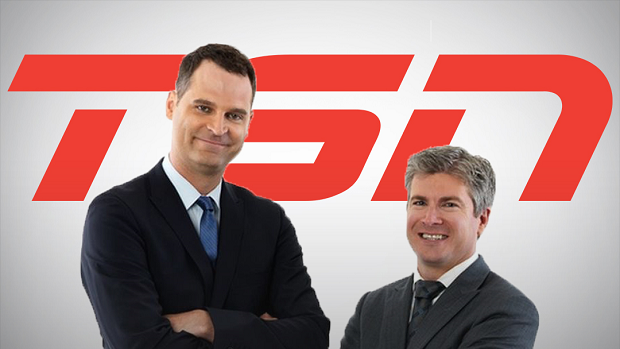 Jay and Dan returning to TSN
"You're an embarrassment to the force, Bobrovsky!" If it's been a bit too long since you've heard Jay Onrait berate the Columbus Blue Jackets' goaltender, you're in luck. Onrait and fellow broadcaster Dan O'Toole will make their return to TSN's SportsCentre on Labour Day following a three-and-a-half-year stint south of the border for Fox Sports Live. It was announced recently that the duo's contracts, set to expire at the end of March, would not be renewed. The pair will appear on SC With Jay and Dan, airing weeknights at midnight ET, and in a brief segment the following morning, and episodes will feature some of Jay and Dan's popular signature segments such as "Ya Blew It!" and a few other new surprises. The two will also contribute original content throughout the day to TSN's digital and social media platforms. The return was announced during the Trade Deadline Day coverage, which saw a total reach of 1.7 million Canadians, peaking at 332,000 viewers according to Numeris, as well as a single-day reach of 1.2 million video views on social media. Sponsors of the coverage included Golf Town, Harvey's and Questrade. "Now get out of my office, Bobrovsky!"
Makeful launches original culinary series
Blue Ant Media-owned lifestyle brand Makeful is the latest Canadian channel to get into the culinary space, with the launch of its new original series Home Chef to Pro Chef. The 14-part, half-hour series, produced by Toronto-based Our House Media, pairs home cooks with head chefs who give them a crash course on managing a kitchen and then give them a shot at running a full dinner service at a restaurant. Home Chef to Pro Chef will premiere March 6 at 8:30 p.m. during a nationwide free preview of the channel. Makeful is also launching Cook Like a Pro Chef - eight one-minute digital videos in which professional chefs offer cooking tips – on its social feeds and YouTube channel. Last month, CBC announced it was starting production on The Great Canadian Baking Show competition series, while Gusto recently added two additional cooking series to its winter lineup: Britain's Best Bakery and Jamie and Jimmy's Food Fight Club.
Twitter adds more user controls, signs e-sports deal
Twitter has introduced new updates as part of an effort to reduce abusive content. Through algorithms, Twitter can now identify patterns of abusive behaviour and address them accordingly. New filter users will also offer more user controls to the mute feature that was introduced last November, including filtering out content from accounts with no profile picture or unverified email addresses. Users will now also receive a notification when a report on an abusive Tweet or account has been received.
Meanwhile, the social network has also announced a partnership with e-sports companies ESL and DreamHack to live-stream e-sports events and original content in 2017, offering more than 15 events from some of the biggest e-sports circuits. The first event, the Intel Extreme Masters Katowice, will kick off March 4. Additional content will include a weekly 30-minute show from ESL, and the DreamHack Austin event in April. The live streams will include advertising packages with TV-style ad spots, as well as sponsored highlight and recap clips. Twitter has seen high engagement from sports fans over the years and has partnered with a number of sports networks and organizations to offer sports streaming. The e-sports market is expected to hit $1.92 billion globally by 2020.
Much launches freeview
From March 7 to April 4, Canadians on more than 30 service providers will gain free access to Much. The Bell Media-owned entertainment network, which formerly focused primarily on music, will offer up animated comedy classics such as South Park, The Simpsons and American Dad, as well as the new British comedy Brotherhood, prank show Fameless and the debut of a new Conan O'Brien special, Conan Without Borders: Made in Mexico. Returning programs include Team Ninja Warrior: College Madness and Tosh.0. During the freeview, Much will also air the Pirates of the Caribbean film series in its entirety, starting with the original on March 20 and 2:30 p.m., with each film airing at the same time throughout the remainder of the week.