ICYMI: New hosts for the Junos, Twitter adds analytics for Moments
In case you missed it: Brian Adams and Russell Peters will headline the Junos, brands and users alike can track their Twitter Moments, and YouTube breaks down the video habits of working-age women.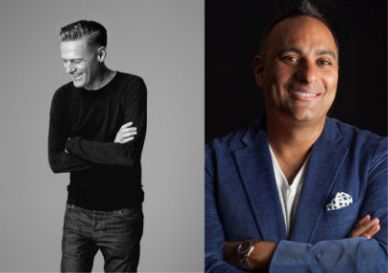 Hosts and performers added to Juno Awards
There's still three weeks to go before a branded VIA Rail train full of rock stars pulls into Ottawa to mark the start of the 2017 Juno Awards. As the clock ticks down, the Canadian Academy of Recording Arts and Sciences (CARAS) has announced the hosts of the show — comedian Russell Peters and rock legend Brian Adams. The two will take the reigns from previously announced host Michael Bublé, who pulled out of the show to focus on his family. The announcement of the two new hosts comes shortly after CARAS revealed its musical lineup including A Tribe Called Red, Alessia Cara, Arkells, Sarah McLachlan and Shawn Mendes. The ceremony will air April 2 on CTV and on CTV Go.
Twitter adds analytics for Moments
Twitter users can now check the performance of their Twitter Moments. The social networking platform unveiled the new tab March 7, and now allows anyone who has created a Twitter moment to see how many users have opened it, how many unique visitors have viewed it, the total number of likes, total number of shares and completion rates for how many users reached the end of the Moment. Twitter introduced Moments, which users to create custom, curated lists of Tweets around current events, sports and entertainment, in fall 2015. The feature has also been used for campaigns by brands including Sport Chek and Chevrolet.
YouTube data shows women are entrepreneurial and lifelong learners
In an effort to mark International Women's Day on March 8, YouTube compiled the top YouTube trends in video and ad consumption among working-age women in an effort to provide better insight into women's viewing habits. One of the biggest trends was the uptick in entrepreneurial videos consumed by women. Time spent watching videos on how to grow brands, start businesses, work from home and other similar topics doubled in the last year. Additionally, women watched three times as many hours of content related to small businesses, business news and business services. Women are also 50% more likely than men to regularly watch how-to videos including recipes, DIY and workouts, and are more likely to watch a how-to video than a beauty video. Looking at advertisements on YouTube, the Google-owned platform found that the top-performing YouTube videos with women included Nike's "Unlimited You" ad, followed by Always' "#Like a Girl — Keep Playing" ad and Nike's "Unlimited Future" ad.
Live Nation drops the "Digital" from Digital Dreams
Live Nation has rebranded its Bud Light Digital Dreams festival to the Bud Light Dreams festival. The festival, which will take place at Echo Beach July 7 and 8, will still focus on electronic music (its lineup has not yet been announced), but will now be a three-stage event for concertgoers 19+ only. The move is being billed by Live Nation as an effort to attract an "older and more mature audience," with a more "boutique, luxury" feel. The three stages will include Echo Beach, the House of Dreams and the waterfront stage, which previously appeared at the 2014 festival.
Cineplex adds to gaming network with latest acquisition
Cineplex has acquired all assets of Dandy Amusements International. The gaming and entertainment company will become a part of Cineplex's Player One Amusement Group. Cineplex formally rebranded Cineplex Starburst Inc. to become Player One Amusement Group following a series of acquisitions including Brady Starbust LLC, Premier Amusements and Tricorp Amusements. The company provides entertainment and gaming solutions to clients such as theatres, arcades, restaurants, shopping centres and theme parks across North America and internationally. The acquisition of Dandy, which concentrates most of its business in California, Arizona, Washington and Texas, is specifically focused on scaling the company's U.S. operations. The transaction is expected to close in April. Financial terms were not disclosed.
Coming to AOY 2017: Design Agency of the year
Strategy has added another category to its annual Agency of the Year awards program: design agency. The category was added to reflect the growing number of brands looking to design as a way to stand up as more agencies build and emphasize this part of their offerings. Strategy's Design Agency of the Year will recognize the agency that produced the best body of design work over the previous 24 months. The jury evaluates three projects (which must be for separate brands) from each agency on the basis of design impact, creativity, craft, technical prowess and innovation.
Strategy has issued its first call for all five AOY categories, including Media Agency of the Year and is currently in the pre-submission period. Any agencies interested in competing should send a list of campaigns they intend to enter before May 15. Entries should be addressed to Mark Burgess at mburgess@brunico.com. Full entry details are available on strategy. To read about last year's winners and for more extensive entry details, click here.