Media leaders on 'adlergic' audiences, an ad-free CBC and new revenue streams
Media execs from CBC, Corus and Bell on the challenges they face for ad dollars.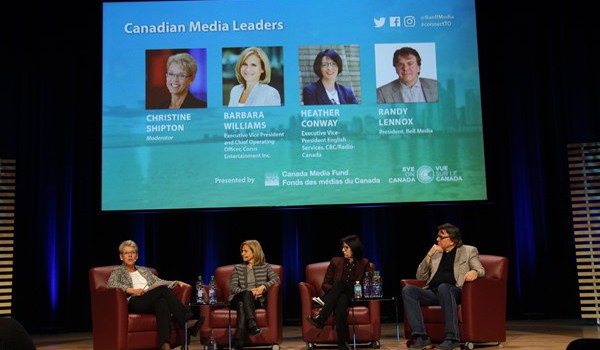 When a panel of Canada's top media executives gathered Thursday to discuss industry issues, the conversation inevitably turned to the changing world of online and TV advertising, and the role new players have in the system.
While OTT platforms certainly present serious competition for eyeballs and are forcing traditional broadcasters to invest more in content, Heather Conway, EVP of English Services at CBC added SVODs are also conditioning audiences to be "adlergic." The comments were made during the media leaders panel at the Banff World Media Festival's Connect TO event at the Glenn Gould Studio in Toronto
"We are training the audience through the OTT experience to have a low tolerance for advertising," she said.
She added that the issue facing broadcasters isn't TV dollars being replaced by "digital dimes," it's that there are so many competitors in the digital space.
"When you're buying display video on digital you're paying the same CPMs as you are for TV now. The big challenge is most of that inventory still gets eaten up by YouTube, by Facebook ads, Facebook video. Your competitors are now moving into that lucrative space in digital that is video and we're all limited because the inventory that [we] can make available is not as great as the others have," she said.
Fewer ad dollars means fewer dollars for content, she added. So with ad dollars harder to come by, broadcasters are looking for alternative sources of revenue.
Randy Lennox, newly appointed president of Bell Media, gave the example of Bell Media's recent partnership with Iconic Entertainment Studios to produce Bat Out of Hell: The Musical.
He noted that Bell is working with broadcasters around the world to air the live theatre performance on television, in the same way that NBC aired its Grease and Hairspray live events on linear. In addition to signing broadcast partnerships for the theatre event, Bell also has the merchandising rights to the event – another added source of revenue.
While Lennox and Barb Williams, EVP and COO of Corus Entertainment explained the new ways in which their companies are working with partners to increase revenues, Conway took the time to remind the audience that CBC has submitted a proposal to Canadian Heritage to transition to an ad-free model.
"In as much as we do value our advertisers today, our model in the future is we would like to get out of [advertising]," she said.
To which Lennox replied, "We would like you to, too."
Conway added that by going ad-free, the CBC could focus on its cultural mandate and at the same time give a boost to private broadcasters.
"The study that we commissioned from Nordicity does show that two-thirds of our ad revenue would migrate to two companies," she said. "It would be helpful, I think, to have those funds, as we are all are struggling with the transitions that we've talked about. The public broadcaster doesn't have to be in that space."
From Playback Daily