MiC Roundtable: On valuing audiences and defining 'premium'
New players, new opportunities, new problems – see what our experts had to say about the wild world of media.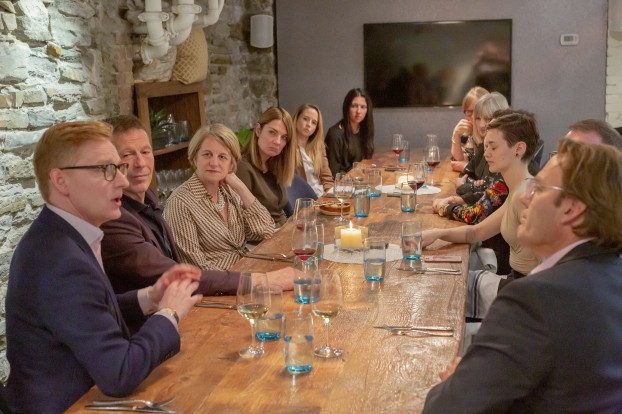 There's an influx of "new" in media: new platforms, new problems, old stalwarts becoming even newer platforms.
And for the most part, it's an amazing and fascinating time – there's added functionality for tracking, new data sources and new ways to interact with customers on their journeys. But at the same time, it's still difficult to know how to build brand identity in a landscape changing so quickly.
Our most recent roundtable discussion touched on this, with agency leaders, publishers and marketers debating on how to navigate these new dynamics and build a sustainable media future together.
Partaking in the discussion were Blue Ant Media SVP of media solutions and head of Blue Ant Plus Mitch Dent, Havas Media president Alex Panousis, Cundari EVP of media Luke Moore, CBC executive director of multi-platform media sales Mary Kreuk, Clorox VP of marketing Matt Kohler, Globe and Mail managing director of ad products and innovation Tracy Day, The Globe and Mail CRO Andrew Saunders and Interac's AVP of marketing and brand Andrea Danovitch.
As the conversation turned in part two to Canadian media companies not tooting their own horn enough, part three challenged marketers to capitalize on the opportunities to work with more local players, and asked the publishers at the table how they can better work together.
Read parts one and two here.
MiC: With all the issues over privacy, there seems to be a great opportunity to work with people like the CBC or the communities at Blue Ant, or the journalism at the Globe, these Canadian brands which all have data [on audiences]. Why is that not happening more? Everybody can work with the big digital players, but why is there not more Canadian collaboration?
Interac's Danovitch: Is the question, why is there not 'more?' There should be. I don't know if you're thinking about our [branded] podcast…
MiC: I am not. But there's legitimate audiences in Canada – we don't need to question if these people are at a trade show or reading The Globe. But are those audiences valued?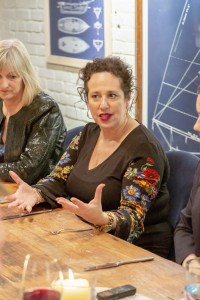 Danovitch (pictured right): Yes, I would agree. I don't know if that's part of our Canadian-ism. Outside from our podcast partner, the one time, it is part of our DNA being a Canadian brand. I can tell you even when it comes to production, I've turned away, when I'm told about cost efficiency by going to South America or South Africa to shoot. It's incumbent on us to stay and produce here, whether it's film, post-production. We are very happy and open and wanting to leverage our Canadian partners more and more. We have great relationships with the broadcasters here.
Clorox's Kohler: We're in a world where businesses are trying to figure out how to do fewer, bigger. We have to go where our target is. And for us, she's on Facebook, Google and Amazon. And you're probably not leveraging all three of those already. I think the closer you get to Google, Facebook and Amazon, the more you're getting out of it. The more you expand beyond that, you have to ask what's in it for you?
The Globe's Saunders: If I added the rest of the Canadian infrastructure, I'd be able to reach 19, 20 million Canadians no problem. The reach is not an issue. Does it ultimately become just a cost efficiency game? You could get the same reach on another player, but one way is more efficient.
Kohler: I want to get the reach and frequency at the right CPM, the right person at the right time. Honestly, I'm pretty agnostic about the platform.
Blue Ant's Dent: But because Google and Facebook have taken over the research agenda and are setting the currencies, it's a biased game.
Havas' Panousis: I think what's interesting is brands have taken the role of the sage in our macro communities. When a brand like P&G or Clorox says, 'No, this is unacceptable,' those platforms stand up and say, 'Okay, we need to change.' If you look at the year we've had with elections, bot fraud, horrific content like live shootings and pedophilia, it's been this wave of terror like we've never experienced, but we're going to continue to feed the beast. Maybe it's a time for us to take a pause and really understand the data. The other thing that's a massive problem, particularly with measuring traditional in Canada, is our measurement doesn't necessarily tell you the full audience. We measure things in small amounts, stitching together. But you [advertisers] have the power to stand up as an organization and say 'We will not take this anymore' and take a hit – not really a hit – and ask for more stringent guidelines for viewability.
MiC: If you look in the U.S., you've got Walmart and its ecommerce business that are now selling media. We're seeing shades of that in Canada as well. With retailers becoming platforms, that has to change the game for everyone at this table. How are you all looking at that?
Panousis: How has that changed? Back in the day, everyone had a magazine.
Dent: They had Walmart Magazine too, for a time. Retailers have always had dynamics of merchandising and those things. It's coming, we can't change it, and because people are very focused on the bottom of the funnel, Amazon's gonna get money. That doesn't mean it's going to be the right strategy, but they're going to get the money.
Cundari's Moore: And looking strictly in the conversion side of things, it can be difficult to build a brand identity. Or impossible.
Dent: Especially when Amazon substitutes their own brand in.
MiC: I'm curious in that context, how brands handle that? When you've got Amazon placing a brand for its branded, say, detergent, after yours, do you look at that as a long-term investment?
Kohler: At the end of the day, most companies are going to follow the money. They're sophisticated about the way they spend the dollars. Interestingly, we can advertise on Amazon, and that's going to drive sales at Walmart and Canadian Tire. So you're building a relationship with Amazon, but you're also advertising on them the way you're advertising on The Globe or CNN.
Danovitch: When you opened a newspaper, you couldn't control whose ad was going to appear alongside yours or where it was going to be. So it's similar. We have to question, are we also sometimes paying to help the category at large? Or what can we do from a brand perspective to stand out and differentiate? If I'm advertising tap technology, am I advertising for my competitors on the credit card side?
Saunders: It is an amazing, exciting time in business. There's added tracking capabilities, added transaction capabilities, but it comes down to talent. Are you really going to leverage mobility and drive e-commerce? Can you really drive emotional connection?
Panousis: And increasingly, all those answers are 'and…'
Saunders: There's a little bit of left hand/right hand dynamic to the extreme. We've seen some marketers go from one extreme to the other. Digital might be 50% of media spend, but at the end of the day, it is still a single part.
Kohler: And as much as we talk about digital, and 'digital is the future,' nothing works like TV. And my digital spend works better when I'm on TV. Now, it depends on your brand and whether you want national awareness or not.
Dent: But it's not a fair comparison. People say 'I skip my TV commercials.' But half the time they don't, and your viewability is so much better than on a Facebook feed. Also, all these things are blurry. As programmatic TV eventually comes, what's a premium YouTube visual versus a preroll storytelling visual, versus a display ad? They aren't the same currency. They're all in that wide spectrum.
Saunders: How do you approach it as a non-stop shop of digital and linear?
Dent: We sell however the person buying needs us to. I don't spend my time worrying what someone else bought. At the end of the day, I have to solve the problem in front of me. If that's that somebody wants all their media bought at once, they'll buy it all together. If they want transactional TV, we sell that. If you can't do that, the teams have no patience. They have to work through things.
CBC's Kreuk: And I think on the supplier side, it's all about the collaboration as well. And at CBC, when we're replying to an RFP, it's not CBC on its own. If it works going with Blue Ant or The Globe, we work together.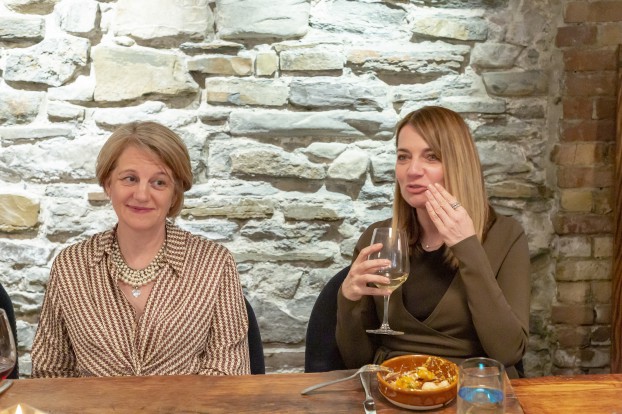 MiC: What are brands and marketers doing to seriously address brand safety and make sure you're not losing out on reach?
Panousis (pictured above and to the right): There's a company out in Waterloo called Vubble, run by Tessa Sproule, who was formerly head of digital at the CBC. They curate safe content and will vet and sort it. AI content, plus humans. And with her CBC roots, she understands the criteria and applies it. I don't think there's a solution for everything, but that was one where I did say to our friends in the U.S., 'Hey, have a look over here. In Canada we have some players who can help you.'
Saunders: But when will the marketing community, which spends the $14 billion, adopt the highest standards for their advertising? Google and Facebook play an important role, but at the end of the day, they need to take responsibility, and they don't.
MiC: There's an eMarketer report that shows that ad spend in Canada will go up just a little bit and then see modest declines. So if TV has the reach, why are we not seeing that reflected in the ad spend?
Kohler: I mean, digital is super-effective too. This is where the challenge exists. Online video works very, very well, and Google owns 90% of the market. So you have to balance brand safety and consumer reach. It's a disturbing choice that they'd actually put you in the position to do that.
Dent: But if TV viewership goes down, but VOD goes up slightly, what's the difference? Premium video is premium video. And I think it will continue to work.
Saunders: What's premium video? Is it cat movies?
MiC: I do want to ask, how do we define premium? It's used to describe content, video, sites. Is it becoming a generic term to mean 'this isn't an Infowars propaganda site?'
Kohler: I think premium is a publisher's contrivance to charge more.
Kreuk: I think it's content that engages the audience and they stay with, beyond cat videos.
Saunders: I think it's brand-safe.
Dent: There's more engagement than cat videos.
Panousis: There's more measurement to it. Like you [Danovitch], I'm amazed at the data you have.
Danovitch: Well, we do and we don't. It's the banks that would have the full picture. We have transactional data. We know amounts, we could know categories, but we don't have the customer data.
Panousis: But that's true data, real data. It's a fascinating view. We could potentially have such a wealth of numbers, whether that's from Accenture, comScore, Numeris. And what instead happens is, junior people talk to junior people and suddenly print is off the plan.
Saunders: There's also the problem of premium as quality. Premium publishers have a disproportionate impact on top- and mid-funnel performance, and we haven't done a good job of communicating that.
Moore: You're just chasing that media math.
Photos by Kevin Cordick