Apple ATT has arrived. What are advertisers to do?
The tech company's record Q1 earnings report made little mention of ATT, but its a hot topic among advertisers.
While Apple's record 54% March quarter earnings reported yesterday speaks to continued growth around the tech company's consumer offerings, its latest iOS14.5 update and the rollout of its App Tracking Transparency (ATT) framework have advertisers rethinking success metrics and benchmarks around digital campaigning.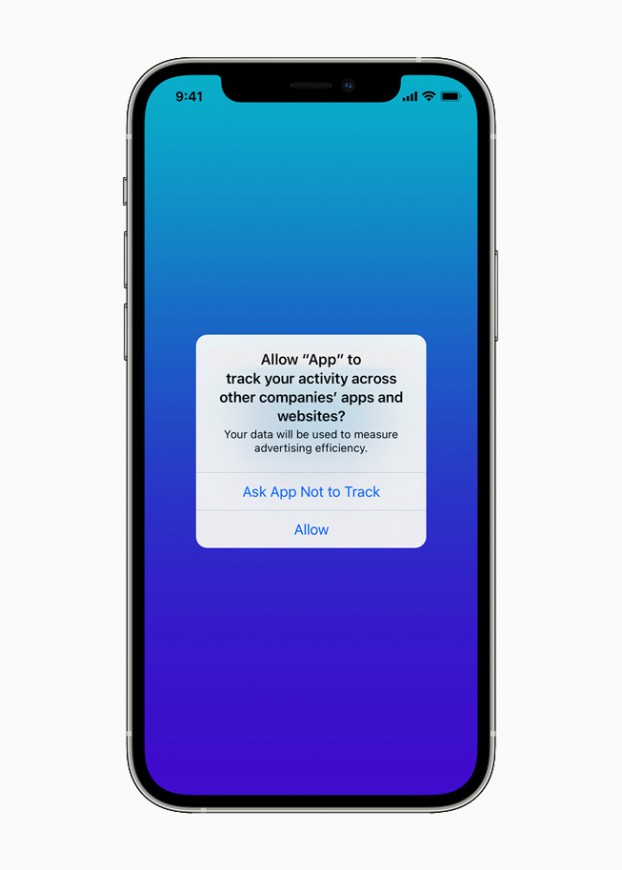 ATT came out with the launch of iOS 14.5 on Apr. 26 and requires any app on an iOS-powered device to get the user's permission before tracking their data across apps or websites owned by other companies for advertising, or sharing their data with data brokers.
Industry conjecture suggests that most users will opt out of the feature, reducing the effectiveness of targeted ads and removing the ability to align user activity across apps and other mobile experiences on iOS, ultimately causing concern with mobile ad-powered players like Facebook.
That said, Ian Meyers, head of addressability product at LiveRamp, spoke with MiC earlier in the year and suggested the privacy-first measure could pave the way for ad innovation, allowing advertisers to work directly with Apple, rather than relying on third-party networks and tracking.
With that in mind, the company did note record revenue of $16.9 billion, including all-time records for advertising (along with the App Store, cloud services, music, video and payment services) for the quarter. Added to that, there have been recent rumblings indicating that Apple may very well be expanding its ad business. The company already offers app store advertising to help brands buy their way to the top of the app listings, but new reports suggest that Apple may add a second "suggested" ad tier in the App store at the end of the month, allowing advertisers to promote their apps across the whole network, rather than in response to specific searches. Apple was not available for comment regarding the ad news.
"While Apple's new ATT measures feel particularly disruptive to advertisers, this shift is in line with what we have seen in the industry to date with regulations such as GDPR and CCPA which prompted advertisers to begin thinking about the cookie-less future," says Tara Landon, group account director with Reprise Canada. She points to planning, measurement and attribution as the areas likely impacted the most, noting that "benchmarks will need to be adjusted and targeting pools will likely shrink, making planning for campaigns more difficult as we adapt to this new normal."
Essentially, Landon says agencies and advertisers alike will need to establish new measures of success. "Attribution will become muddied further by this change and advertisers can anticipate that conversions normally attributed to social channels may artificially be attributed to other channels due to the reduction in tracking, while the overall number of reported conversions likely won't be greatly impacted."
Just prior to the ATT rollout, Facebook reported that it begin rolling out new ad measurement protocols — Apple's SKAdNetwork API and its own Aggregated Event Measurement — along with new topic targeting options within In-Stream video ad units, testing on Instagram Reels Ads and other ad experiences in Facebook Stories, all designed to help increase opportunities for brands to better engage with relevant audiences.
And while the announcement around topic targeting and improved ad experiences didn't specifically speak to the platform's position around Apple's ATT, the new capabilities appear to rely less on IDFA measures. Facebook's own earnings report Wednesday acknowledged the affect ATT will likely have on its ad business, indicating that it is planning accordingly around this and other "ad targeting headwinds."
Sources from Facebook Canada say, "We don't have Canadian stats to share at this time, but we've begun beta testing these ad formats gradually in a variety of countries, including Canada. We hope to share more about eligibility and expansion, and we'll monitor feedback from consumers and advertisers closely to ensure the best experience."
Video Topics are powered by machine learning, and are available when advertisers select the In-Stream Only placement and brand objectives for their campaigns. It will include over 20 topic options – such as sports – and over 700 hundred sub-topics like baseball, basketball, golf or swimming, ultimately providing advertisers with more choice in the content they want their ads to appear in.
 With files from Patti Summerfield.