AdTheorent delivers real-world value for advertisers and marketers using its advanced machine learning (ML) platform and privacy-forward solutions, and by identifying which ad impressions have the highest likelihood of converting based on a client's desired campaign action.
Standing at the vanguard of programmatic advertising with its proprietary Platform A\T – specifically built and customized for digital advertising – the New York-based company offers a unique and pioneering approach, especially when it comes to privacy issues.
"AdTheorent Predictive Advertising is not reliant upon third-party data licenses, cookies, device IDs or any of the new unified or individualized IDs being discussed in the market right now," says Jason Stein, AdTheorent's director of sales, Canada. "Our approach is data agnostic, which is a huge benefit as we can leverage all available signals to optimize performance without the need for personally identifiable data."
Each campaign is also customized to each client's specific needs, with AdTheorent's team of data scientists developing customized machine-learning models based on a client's KPIs, whether that's an online action or physical world action such as visitation. Moving beyond rudimentary KPIs such as clicks, AdTheorent drives advanced business outcomes for its advertisers, including measurements in incremental sales, store visits, registrations, travel bookings, online orders, drug prescription fills, insurance policy sales and many more.
"Statistically we evaluate one million impressions per second – 87 billion-plus impressions per day – and serve ads to less than 0.1% of them," says Stein. "By predicting the likelihood of an ad impression converting on a digital KPI we drive performance while maximizing a client's budget across all channels."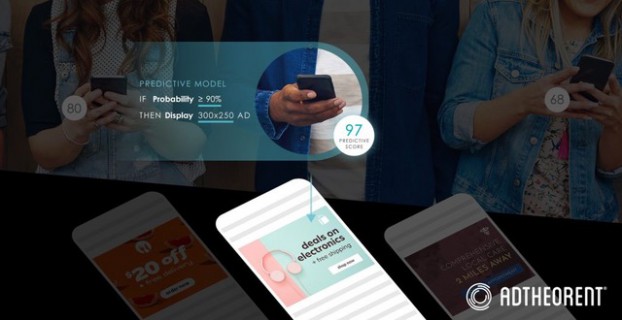 Available as both self-serve and managed-service options, AdTheorent's product suite and flexible transaction models present advertisers the opportunity to leverage AdTheorent's platform in the way that makes the most sense for them. There's also a specialized team of in-house yield analysts, data scientists, strategists and account managers that deliver real-time custom optimizations and ensure that campaign performance is strong.
Throw in Studio A\T – a dedicated in-house design studio that delivers first-to-market, cross-device solutions customized to each client's individual campaign – and AdTheorent has advertisers and marketers covered on all fronts.
So, how does the exclusive Platform A\T give advertisers unprecedented levels of targeting accuracy without alienating consumers via the corporate monetization of their identities? By harnessing and ingesting vast amounts of statistical and non-individualized data attributes in each bid request as machine learning models inform the platform's real-time media buying decisions.
If a customer's KPI is an online insurance quote application, the platform identifies which of the approximately 900 data attributes are most often present when there is a conversion. This could be device type, operating system, one or more keywords in the URL, keywords in the page content, geographical data, time or other data attributes that are available to inform AdTheorent's models.
Using historic conversion data, AdTheorent can determine the likelihood that each specific bid request will drive online or real-world actions, as its platform assigns higher predictive scores to impressions with data attributes that correlate with historic conversions.
As the platform only bids on higher-scored impressions to drive performance, consumer privacy is protected because the system is data-agnostic, leveraging only non-sensitive data focused on the predictive value of machine-learning models – and gives advertisers their pinpoint accuracy.
This also extends to AdTheorent's connected TV (CTV) offering, part of an omnichannel strategy which includes deploying location-based targeting.
With the company's proprietary POI capability including more than 14 million consumer-focused points of interests across more than 19,000 business categories, AdTheorent allows advertisers to reach frequent, competitor and category customers in such fields as retail stores, sports venues, restaurants, hotels and more, using real-world visitation as a signal for targeting on CTV devices.
The company can also deploy robust and scalable targeting capabilities for marketers desiring to utilize mobile, desktop and CTV media to reach consumers. Its omnichannel offering can vary between serving a CTV ad and messaging other devices to serving a mobile or desktop ad and messaging on CTV.
AdTheorent can also reach predictive audiences through CTV, using custom machine learning models to ingest first- and third-party audiences to identify in-audience impressions most likely to yield desired campaign outcomes.
Simply, through years of investment and research, AdTheorent has built a reputation as a programmatic industry leader.
"Operationalizing ML-based predictive bidding in a real-time environment is something our engineers and data scientists and analysts have been working on for 10 years. We are really at the forefront of the industry," says Stein.
AdTheorent uses advanced machine learning and privacy-forward solutions to deliver impactful advertising campaigns powered by predictive targeting, geo-intelligence, audience extension solutions and an in-house creative capability. For more information, visit adtheorent.com.