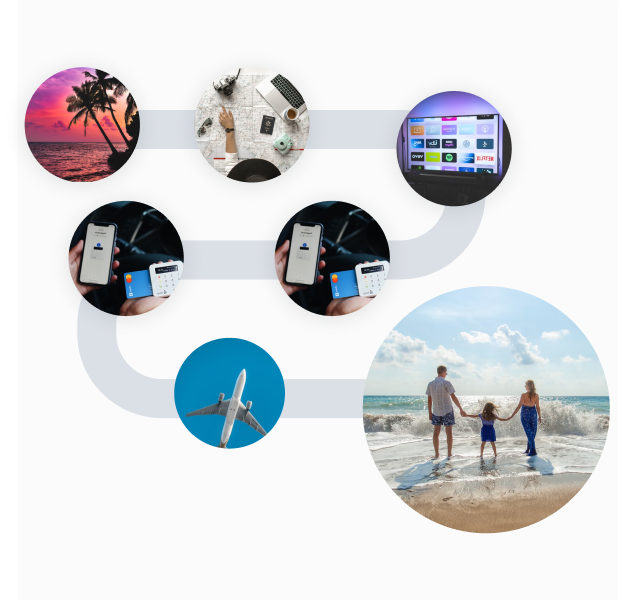 One of the most frustrating aspects of running a brand awareness advertising campaign is that results often don't reveal themselves until months after the promotion has concluded.
Another challenge: the inability for agencies and advertisers to monitor or receive instantaneous feedback on a campaign's effectiveness, just in case the ship needs to be righted or tweaks need to be made to optimize the message and its impact.
Enter Quantcast, the San Francisco-based advertising technology company with a proprietary intelligence audience platform that since 2006 has empowered brands, agencies and publishers to identify and expand online audiences. It promises that its latest suite of products – which includes Brand Lift Live – provides remedies to those concerns.
Laura Main, Quantcast's managing director, Canada, says the upper-funnel approach of Brand Lift Live offers immediate impact measurement, describing it as "a brand lift study that provides measurable results that our clients can action on in real time."
And you don't have to report to or rely on a third party partner or additional resources to trigger it. This cuts out the middle men.
"You can activate Brand Lift Live directly within the Quantcast  Platform," notes Main. "It's a super-simple setup. We have flexible survey options allowing marketers to measure the impact of brand campaigns  depending on their branding objective. And then you have actionable campaign data."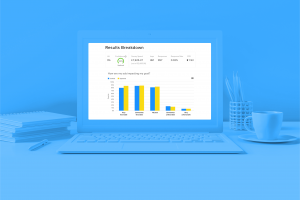 Main adds that this new mid-funnel marketing management product allows advertisers to measure the live impact of ads throughout the entire campaign and across connected TV, desktop and mobile.
It can also provide flexibility to pivot in terms of adjusting the frequency, creative, messaging and audience, if needed.
"You can look at the optimal frequency or identify the lift and sentiment early enough to make creative adjustments to meet your needs," Main explains.
"Many advertisers are running these awareness campaigns and they don't get the results until two or three months after, so they're not able to actually make any decisions that matter throughout the campaign.
"Brand Lift Live gives you data to inform options. This is what our product really solves."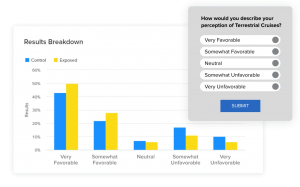 As the Quantcast Platform offers marketers the ability to measure and optimize brand advertising similar to direct response campaigns, Main says one of the most appealing factors of the new product suite is its low cost of entry.
"Advertisers can apply this to all their campaigns. It's not like you have a $60,000 or a $100,000 cost of playing ball. Our minimum fees are about $30,000," notes Main. "These are the types of things that you can layer onto any campaign."
Brand Lift Live is only one aspect of Quantcast's new offerings. There is also the Brand × Demand Attribution Report, which Main says directly addresses and assesses the brand dollars being spent.
"The Brand × Demand Attribution Report allows us to look at the impact of brand dollars that marketers are spending and how it's positively impacting their performance portion of the campaign," she says. "By targeting 'X' amount of people, how are you now driving lower conversions? Is your acquisition cost going down? How are the brand tactics that you're employing driving more efficiencies on the performance piece?
"That's what the Brand × Demand Attribution Report does: it allows us to see the overview."
Enabling advertiser agencies to monitor their campaign progress throughout the entire consumer journey can create efficiencies and eliminate waste, while pinpointing brand awareness to audience targets.
With Quantcast offering market exclusivity on these real-time tools and enabling clients to use its platform to enact the product and extract the results, Main feels her company offers huge value, adding, "It's really cool being the first to market with something like this."
San Francisco-headquartered Quantcast empowers brands, agencies and publishers to know and grow their audiences online. The Quantcast Platform, powered by Ara – a patented AI and machine learning engine – delivers automated insights, marketing performance, and results at scale to drive business growth. Contact Laura Main, managing director, Canada at Quantcast: fieldsales-canada@quantcast.com