Articles Tagged 'cable'
MTM reports uptick in cable cutting
In a survey among Anglophones, 73% said they were paying for cable, satellite or fibre optic – down from 78% last year.
Cable subscriptions drop, but less drastically than previous years: study
While cable saw the largest drop in subscriptions across all pay TV, IPTV saw a 13.8% lift in customers.
Cable fading and wearables rising: study
The MTM's new report with spring 2017 data shows what's reaching a point of maturation, what's up-and-coming and what's on the way out.
Cable in decline, but still the number-one TV delivery method: study
Three quarters of Canadians still pay for TV in some form and most prefer cable. But fibre optic share is steadily rising.
Cord-cutting hit a record high in 2016: report
But those who have cut the cord still only account for a small percentage of the total market, according to a report from Boon Dog.
Despite skinny basic, cord cutting on the rise
Cable providers will lose nearly 200,000 subscribers in 2016, according to projected numbers from Ottawa-based Boon Dog.
BDU subscriptions sliding, revenues steady: CRTC
The regulator's report for the year ending Aug. 31, 2015 indicated that the combined revenue for Canadian cable, IPTV and satellite companies was $8.9 billion.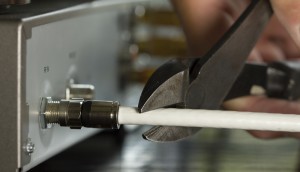 More cord-cutting ahead but mass exodus unlikely: report
Cord-cutters will grow in number but not by an earth-shattering amount, according to an IDC report.
Satellite down, IPTV up: CRTC
IPTV subscribers jumped 29%, while satellite and cable subs dipped, for the year ended Aug. 31, 2014.