Regional NHL schedules take shape
TSN will broadcast 140 games on its soon-to-be-launched channels, splitting regional Leafs games with Sportsnet Ontario.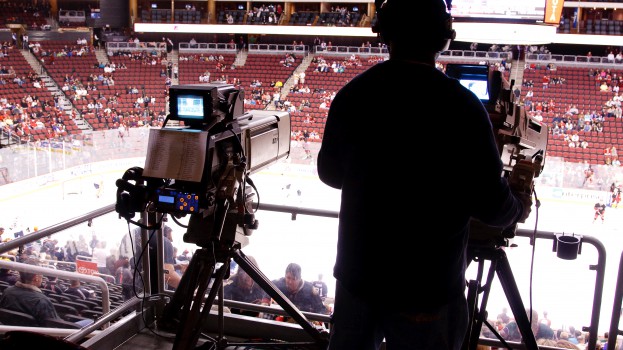 The new hockey broadcast landscape is now in even clearer focus as TSN has announced its NHL schedule for the 2014-15 season, utilizing its expanded lineup of channels to bring hockey to fans in Winnipeg, Toronto and Ottawa.
TSN3 will broadcast 60 Winnipeg Jets games to subscribers in Manitoba, Saskatchewan, the Northwest Territories and northern Ontario. TSN4 will show 26 Toronto Maple Leafs games in Ontario and 53 Ottawa Senators games will be available on TSN5 to eastern Ontario, Quebec and Atlantic Canada.
While each of TSN's new networks is available nationwide, games will be blacked out in the regions where they are not available.
On the radio side, every Jets game this season will be available on TSN Radio 1290 in Winnipeg and every Senators game will be on TSN Radio 1200 in Ottawa. Toronto's TSN Radio 1050 will broadcast 41 of the Maple Leafs' games.
Rogers earned the national broadcast rights to the NHL as part of its blockbuster 12-year, $5.2 billion deal with the league, but TSN still retained the rights to the regional broadcasts through individual agreements it had with teams, adding one with the Senators in January.
The majority of TSN's games are those not part of Rogers' national slate, which focuses on Wednesday, Saturday and Sunday nights. Most of TSN's regional broadcasts fall on the other days of the week, as well as games on Saturday and Sunday afternoons. There are also a handful of Jets Sunday night games that will put TSN's hockey coverage head-to-head with Sunday Night Hockey on Rogers' channel City.
Sportsnet has also announced a lineup of 16 regional Maple Leafs games that will be broadcast on Sportsnet Ontario to complement the 40 national games that will be seen across Sportsnet, City and CBC. In addition, the 41 Maple Leafs games that aren't being aired on TSN Radio 1050 will see radio broadcasts on Sportsnet 590 The Fan.
Rogers also holds the regional rights for the Vancouver Canucks, Edmonton Oilers and Calgary Flames. Regional schedules for those teams will be announced in the coming weeks.
At the time of the Rogers deal, TSN still held regional broadcast rights for the Montreal Canadiens, but the Montreal Gazette reports that neither TSN nor Rogers has picked up the rights to broadcast the team's regional games in English for financial reasons. In French, the regional games will be broadcast on RDS with national games on TVA Sports.
Image courtesy Scott Prokop/Shutterstock