Partnerships the way forward for industry: panel
Agency heads, clients and analytics experts agreed that collaboration on digital is the way forward, at the ACA conference yesterday.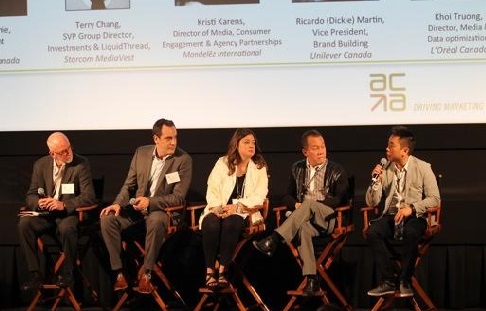 The industry came together in a spirit of collaboration yesterday at the "Taking a Hard Line with Online: The Client Perspective" event organized by the Association of Canadian Advertisers at the TIFF Bell Lightbox in Toronto.
Marketers Mondelez International, Unilever Canada and L'Oreal Canada talked about how each has been addressing complex issues of measurement on digital campaigns, emphasizing the need for organizational re-structure, education on digital and the sharing of an industry-wide black list to push out fraudulent publishers.
Allen Dillon and Ehsan Mokhtari of Toronto-based security company Sentrant emphasized the need for an urgent collective response to dealing with online fraud.
The growth of sophisticated criminal networks online was a significant concern for all presenters. Mondelez International has, in fact, created a blacklist of 170 fraudulent companies in the digital space. One panelist suggested that – in the spirit of greater transparency – the blacklist should be made public. The sharing and building of that list could benefit the entire industry as it moves towards a more transparent era.
Kristi Karens, director of media, consumer engagement and media partnerships at Mondelez International, talked about how consumers were driving online video investment. Precision-targeting through the use of well-defined metrics has been a huge opportunity for Mondolez, she said, but it also required a systemic change in approach to be more adaptable. "If you're going to believe in real time responses, you've got to have the data and the creative to respond."
She presented alongside Terry Chang, SVP, group director, investments and liquid thread at Starcom MediaVest.  "A machine is not enough," said Chang, speaking to growing automation of the buying process. "There is also a high human touch…machine and human touch together elevate viewabiltiy and KPIs."
The two also identified the need for agencies to be more nimble, to test and learn and adapt to a programmatic environment as consumption of media increases in the online space, especially on mobile.
Insights on the client side also came from Ricardo Martin, VP marketing at Unilever Canada who identified several factors that help companies deal with viewability issues including third-party measurement providers, alignment on measurement definitions and expectations and team education on digital.
This fourth point was repeated through the morning, with Khoi Truong, director, media and data optimization at L'Oreal Canada talking about starting with educating those in C-suite on the whole digital advertising ecosystem.
Panelists engaged in a conversation moderated by Index Exchange's CEO, Andrew Casale, where there was general agreement that the industry is moving towards greater understanding of the digital space. Heightened transparency, however, will require open and honest partnerships among agencies, clients and publishers. Digital offers more complexities than television did, according to Brent Bernie, president of comScore, because of the challenge of understanding how to present a seemingly infinite inventory.
Image courtesy of ACA