Blog: Addressing TV's addressability
PHD Canada's Rob Young makes a case for increased addressability in TV but acknowledges that Canadian media cos may not be ready yet.
By: Rob Young
Andy Warhol once said, "Everyone will be famous for 15 minutes." Decades later, Scottish musician Momus parodied the mass media maven when he observed, "On the web everyone will be famous to 15 people."
These two "memes" nail the key difference between mass media and addressable media. Mass media directs one message to many; addressable media serves one message to one. To make addressability work, you need digital technology capable of distinguishing one consumer from others, and digital technology with the capacity to serve a specific message to that one individual.
Mass media, of which TV is a particularly good example, exhibits rising cost-per-thousands as target groups narrow. That is because cost remains constant while the denominator (the "thousands") gets smaller as target groups narrow.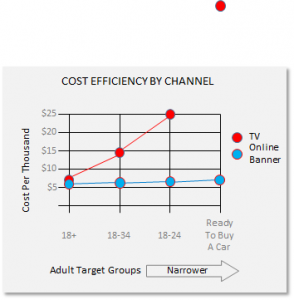 Digital online banner cost-per-thousands, on the other hand, remain relatively stable. Add a target characteristic like "interested in buying a car" and those TV efficiencies skyrocket while online efficiencies still stay pretty constant. It is this growing cost efficiency "gap" between traditional or "linear" TV and addressable online that clarifies why TV ad revenue, and in fact all mass media ad revenue, is in decline, while internet ad revenue is in its ascendancy.
The 4A's report on Data Driven Video issued in March this year reinforces the notion that the linked threats of insufficient ability to target and resultant revenue decline are behind the TV industry's new-found search for the "Holy Grail" of addressability.
Cord-cutting, the growth in online video consumption, increased usage of the TV set as online monitor and increased smart TV penetration, are all examples of consumer-triggered behaviour forcing the TV industry to rethink its business model, which means thinking about addressable TV. How far has this rethink gone? It depends on the country.
SKY AdSmart probably represents the most developed form of commercial addressable TV in play today. BSkyB, the proper company name that operates AdSmart, is a satellite platform and broadcaster in the U.K. capable of serving different ads to different Sky households watching the same programme, based on factors like age, location, and number of occupants.
In the U.S., cable companies can locally sell two minutes of commercial time per hour and many companies have employed variations of addressability into their systems. The 4A's paper on data driven video gives us the following table on the current status of TV addressability in the U.S.:
Three conditions need to be satisfied before pure addressable TV can exist:
Condition 1 A rich set of household targeting data.
Condition 2 Dynamic ad serving of an individual commercial against a specific household.
Condition 3 The individual household must be able to independently download TV.
Here in Canada Shaw, Rogers, Bell Media and Telus are holding their addressability cards close to their chests. There are in-field tests and plans for tests, as well as visions that need testable plans that can't be detailed here because of confidentiality issues. It is, however, safe to say that there are roughly four kinds addressable TV initiatives in play, in test, or under consideration in Canada that satisfy some or all of these three conditions.
Video on Demand (VOD) (Satisfies Condition 2 and Condition 3)
Some of the set-top boxes that VOD subscribers have installed in their homes makes provision for a type of ATV to occur. Additionally, fancy serving technology allows a TV commercial to be served to the ordering household, the essence of dynamic ad serving. Isolating ordering households on the basis of that household's target profile is a touchy subject, given Canada's privacy rules.
Linear TV Geo Targeting (Satisfies Condition 1)
If enough households have set-top boxes capable of feeding data back to "cable central," then geo/demo segments can be created and cross tabulated against linear TV viewing; a kind of "birds of a feather view together" exercise. We get a whole set of propensity-based profile characteristics above and beyond anything Numeris (Canada's TV and radio measurement service) can offer.
Linear TV Geo Targeting with Dynamic Ad Serving (Satisfies Condition 1 and Condition 2)
In this situation, households with the appropriate set-top box will view linear TV content that can contain a number of different ad messages. The home's general location is known (like the test case above) and therefore geo/demo segmentation can occur. The limitation to pure addressability is that individual households cannot download content on demand.
Internet Protocol TV + Dynamic Ad Serving (Satisfies Condition 1, Condition 2 and Condition 3) 
This is more vision than test and it is the ultimate ATV scenario. Households would be equipped with IPTV connections which would double as an online conduit as well as a cable TV conduit allowing for the streaming, viewing and paying for a wide range of linear-like video content "on demand." DAS would occur. Geo/demo household targeting would be coupled with online behavior facilitated by the fact all this traffic is flowing through one pipeline. All the conditions for programmatic buying would be in place. TV executional data trails would take their place beside Internet transactional data within the client's data management platform. The data platform would become more complete as the old lines of demarcation separating online from offline media begin to vanish.
There are barriers.
There appears to be limited industry cooperation or coordination between Canada's big three communication organizations which will slow the creation of scale and national consistency.
Addressable TV technology is transformative, not additive, requiring a massive upgrade and a correspondingly huge capital outlay. Traditional TV broadcasters holding online video rights, will be loath to forgo linear control and allow individual streaming. There is a lot of revenue still tied up in the old linear model.
As a result, TV addressability will represent a small (perhaps up to 5% of video time) proportion of commercial inventory in Canada for the next two or three years.
Nevertheless addressable TV will increasingly supplement linear TV and help more of our brands to become famous to the right 15 people – instead of being famous to all for only 15 minutes.
Young oversees PHD Canada's insight and analytic output in addition to managing mixed media modeling projects where returns on investment are determined by marketing channel for client campaigns.