ICYMI: Two Ottawa papers merge, Bell Media rebrands MMVAs
In case you missed it: The Hill Times and Embassy have merged in Ottawa, Rogers has expanded its new low-income internet option and the MMVAs have a new name.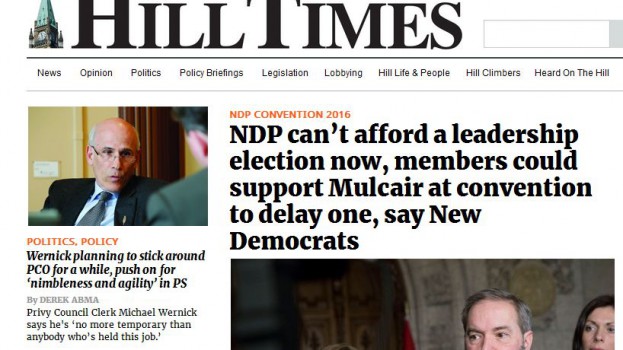 Bell Media rebrands MMVAs

Alessia Cara, Macklemore and Ryan Lewis, and Nick Jonas have been announced as the first acts that will perform at the IHeartRadio Canada Much Music Video Awards. The rebranding is part of Bell Media's efforts to build interest in the radio streamer, which is launching in Canada later this year.
The Hill Times and Embassy merge
Two Ottawa independent newspapers, The Hill Times and Embassy, have merged. The merger, which takes effect next week, will mean The Hill Times will moved from one to two editions a week, coming out every Monday and Wednesday. Researchers will still be able to access past coverage of global affairs news, analysis and opinion online at Embassynews.ca.
Rogers launches low-income internet option
Rogers is expanding its low-income internet project, making Connected for Success available to families and individuals living in rent-geared-to-income non-profit housing in Ontario, New Brunswick and Newfoundland & Labrador. The service is available for $9.99/month and includes speeds of up to 10 Mbps download and 1 Mbps upload. The pilot version of the project started in Toronto's Community Housing in 2013, and will be first expanded to Ottawa.
H&M bringing e-commerce to Canada
H&M has announced it is bringing e-commerce to its Canadian stores, officially launching online shopping in the country sometime in 2016. In its latest earnings report, the retailer said it also plans to launch e-commerce in South Korea, Japan and Greece. With 11 new markets added throughout 2016, H&M will offer e-commerce in 34 markets by the end of the year, according to its statement.
Ideon Media to represent Mic
Ideon Media announced this week that it will be the exclusive sales rep for Mic (no relationship to Media in Canada, or MiC).
Mic covers news and entertainment aimed at the young, digital viewer. The U.S.-based publication reaches states it reaches more than half of America's college-going millennials, as well as 30 million people globally each month.
Cieslok adds two B.C. boards
Cieslok Media has added two digital boards in White Rock, B.C. The double-sided digital structure is on Highway 99, the route to and from the Peace Arch border crossing with the U.S. The 10 foot by 35 foot large-format screens are able to host content in up to six 10-second ad units in a 60-second loop.