Bell Media changes Quebec, OOH leads
Karine Moses and Debbie Drutz are both taking on new roles within the Bell Media sales department.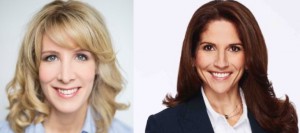 Karine Moses and Debbie Drutz are both taking on new and expanded roles in Bell Media's sales department.
Moses, who currently serves as president of Astral Out of Home, will see her role expand to include VP of Bell Media sales in Quebec, while Debbie Drutz, who has worked for Bell Media since 2011 and previously held the position of VP, client strategy, has been named VP of sales, Astral Out of Home.
Moses will continue to lead Astral OOH while also overseeing sales strategies and operations for all Bell Media's Quebec properties, including TV, radio and digital. She had already been working in the role on an interim basis for the past four months following the exit of Patrick Jutras, who left the company in August to pursue a sales leadership role at La Presse. In a statement announcing the move, Stuart Garvie, president of media sales and marketing said Moses' knowledge of the Quebec market gained in her 10 months at Astral will be a strong asset to her leadership role.
Drutz will report directly to Moses, overseeing the out of home team. The role was previously occupied by Jordana Fatsis, who recently left the company, according to a Bell Media representative.