MiC Roundtable: Keeping up with clients
In the first of a series of roundtable discussions, MiC invited six mid-level media agency staffers to dive into the issues impacting day-to-day life in the industry.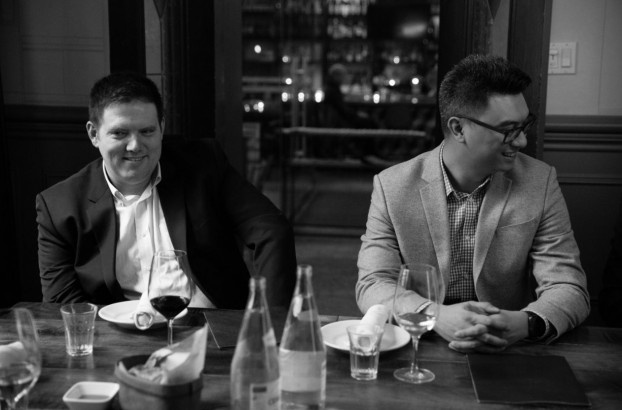 Image: Sean Dixon, group director of marketing science, OMD and Juan Panlilio, director of decision sciences at UM
"It's media's time now."
Those were Media Experts SVP Kris Davis' optimistic comments at an invite-only roundtable hosted by Media in Canada.
He was one of six attendees discussing the changes, challenges and (believe it or not) fun agencies face in the rapidly changing media landscape. This first in a series of industry roundtables gathered director- and VP-level agency executives to discuss recruiting and training, client relationships and, of course, what to do with all that data.
In part one of this conversation, attendees Matt Devlin, director of communications planning at PHD; Sean Dixon, group director of marketing science, OMD; Fauve Doucet, director of strategy at MEC;  Marissa Mandel-Murray, director of strategy at Maxus Canada; Juan Panlilio, director of decision sciences at UM; and Davis tackle how they avoid drowning in data and helping clients focus on real human insights.
MiC: It feels as though people at your seniority level are expected to do more now than a year ago.
Dixon: There is more pressure to prove our value. The expectation is that we are demonstrating the business impact to our clients. To accommodate that expectation, we need to work a lot harder, depending on the client.
Doucet: I think we are in the in-between of becoming more effective and less time consuming. For someone who is getting into an agency, there are so many things to learn, so many platforms, so many ways to look at things. I think it is going to change because we are still doing a lot of stuff that is less efficient from the way we were formerly structured. We are in a period of change.
Panlilio: And then there is this notion that even our clients are becoming better informed and more knowledgeable — all these whitepapers and the data that they have access to. What we find is that there is a "shiny object syndrome" where they see a whitepaper on viewability or ad fraud or bots and they bring it back to us and pre-empt conversations at times.
At the end of the day, we are working to help change behaviour, drive sales, whatever the brand focus is. We can distill all the platforms and the shiny objects in order to find the notable nuggets and the things that really drive the business value. And all the technology can be used to help us do that.
So how do you find this changes the dynamic between you and your clients?

Panlilio: It has made it more dynamic and more interesting. In the past, we could bring forward a bunch of reports that were almost taken at face value. But now clients have become smarter, and there is the challenge back and forth about the methodology or some of the back-end mechanics to help validate the numbers. That has helped evolve or push some of the things we do on the back end, to make that insight and to drive that client. It creates a positive tension.
Devlin: That's where the notion of expertise comes in. Because you have a client that's paying for something, you need to have a similar level of expertise and you need to be able to have the right people in the room and to have a flexible structure where you have generalists but also a team of subject matter experts.
Has big data gotten in the way of strategy?
Davis: In some cases it has, where people get caught up and distracted by it, and they focus on the wrong things. There's a tendency to say "Oh we can measure this" and they focus on it too much and don't really understand at a human and business level what we're trying to achieve. In some cases, data can be incredibly powerful, but you have to let the people managing it put their fingers on it. Otherwise it can get you distracted.
Devlin: I feel like those pressures didn't exist before. It wasn't long ago that we believed all the data that came out of digital. We weren't being asked for human truths. We just showed up with a plan. Now we need to be doing both — we need to be looking at tons of data critically and telling stories.
I think one of the ironies of all this change is that trust is so important. The oldest parts of this business — like account management and having great relationships — are more important than they have ever been. I don't think everyone shares that opinion, but I'm pretty firm on that. There's so much trust that our clients place on us. Having that relationship is critical.
Davis: It's media's time. We have a seat at a table now — more so than creative agencies or other partners sometimes. We're a huge strategic partner to our clients, a tech consulting partner, and that trust is critical to what we do. Our job kind of needs to be at different levels in the organization, to be a strategic business partner to our clients because things are changing so quickly.
You used to have planners and buyers. But now, because there's so many different aspects to business, you almost need a structure that can go really broad for shorter term projects. If someone says "Hey, we have a social project," you need subject matter experts that can really drill into social. We need pockets of subject matter experts that can go broad but can also go deep as the clients need it.
Basically, you're expected to know as much as those other vendor partners, right? You have to know as much about, say, influencers as a PR agency?
Mandel-Murray: Yes, I'm expected to know it all. I'm expected to sit at the table with the client and have these conversations with the client in order to drive their business forward. And to be the first person at the table with the solution.
Davis: That's what I mean by it's media's time now. We own all of the touchpoints, right? We're expected to step in and the things that all the other partners do. And we often have the biggest seat at the table now because of that.
In the second part of our exclusive roundtable discussion, our experts will discuss how to build a staff that can take advantage of "media's time," and how Brexit and Trump may change perceptions of their expertise. Part two will appear on Media In Canada on Tuesday, April 25.
Images by Jennifer Horn