What's driving change at media agencies?
From how agencies are embracing AI to what viewability truly means, agency directors discuss what's keeping them (and their clients) on their toes.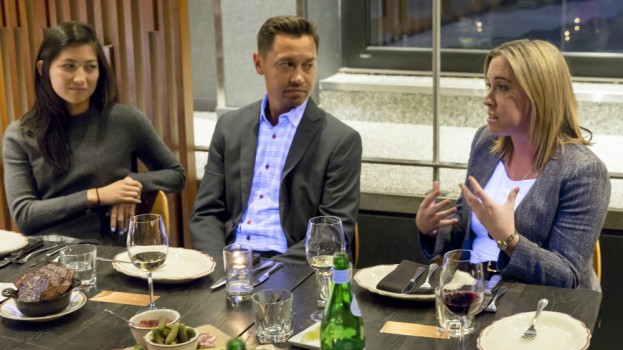 As agencies are trusted with more data, more evolving technology and more complex requests every day, the name of the game is not change but adaptation. What tools and processes are helping directors and VPs get things done the quickest and prove their value? What do they have to be prepared for around the corner? And what can agencies do to keep on their toes?
Joining MiC for its fourth and final round table discussion of the year with Janet Xi, group manager at Jungle Media; Melissa Champagne, account director at Zenith; Emily Douglas, director of digital investments at Touche; Tracy Jones, managing director at Alternator; Claus Bermeister, managing partner at MEC/Wavemaker; and Mona Afzal, director of strategy at OMD Canada. 
MiC: What about your job is in flux?
Janet Xi: Being in the service industry, it feels like it's whatever the clients are asking for now. We have to be better about having proper compensation related to that. We're so used to saying "no problem," and 40 hours later we're producing something for them.
Mona Afzal: We had a joke this year where our CFO looked at a global client of ours. We were at four times the hours allocated to their business. He asked what we had been doing and the answer was "everything." It was everything from making content to charts and graphs and checking [and] making recommendations on creative.
Xi: We talk a lot about how we find clients that align with our cultural values and our passions. It's very hard when so many agencies have global alignment. Even someone you'd get a long with in terms of the way you work would automatically be assigned to an agency that doesn't mesh in the Canadian spectrum.
MiC: The spectre of what's possible with [artificial intelligence is amazing]. People are saying we can now do anything we want. But also people are worried, because —
Xi: Automation means less jobs.
Afzal: And we've seen AI screw ups.
Emily Douglas: I feel like we've been doing AI in different ways for a long time and just not calling it that. We are for sure into AI, working with partners to see how we can activate these things for cross-channel attribution, for one thing.
MiC: Do media agencies have an advantage over other agencies or consultants to play a leadership role on AI?
Douglas: We've looked at partnering with an AI firm, but the reality is we have partnerships with media partners developing it. They'll use their data better than just layering that info in after the fact to find efficiencies. Voice marketing is a huge area we're interested in. In-store, there's a certain amount of SKUs you can have. But with a voice assistant, a search returns only one result, the top one. As e-commerce evolves over the next three or four years, a lot of that long-tail stuff will develop into demand for niche produts. There will be a market for it and through AI, you can do super precise segmentation against that need, but at a mass level.
Jones: We have to embrace the chaos theory of humanity. No matter how smart our systems get, they still need an idea.  Years ago when the first Macintosh computers came out, people started making lousy ads that looked great. Garbage in, garbage out. We still have to be the soul behind the ideas.  That's where creative and media agencies still have a place to live.
Afzal: Clients are still asking "so what?" behind data. Sure, we can explain our deep data to clients and they may understand it, but it still has to be distilled down to local operators and people who are working the business. The storytelling and narrative remain important.
MiC: Is there anything you guys want to ask each other, or tell us what we should be reporting based on what you're seeing in the industry?
Claus Bermeister: As we do a lot with marketing through video and get more into content, I think viewability needs to get fixed. There needs to be some talks between publishers. There's a real opportunity to create some rigour and standardization around it. I think we're slow in terms embracing what viewability could look like for Canada. Viewability is a really hot topic among clients I talk to. There's different metrics for viewability across different publishers, different vendors and platforms.
Douglas: As for TV and digital, looking at them together, that's the lead-in to the whole viewability thing. Has anyone solved that? We're still working on that.
Bermeister: I haven't seen models I can compare. Quite a while back, we got into video neutral buying strategies, trying to reverse GRPs. We proved it out through research sources, but it's an evolution. Things change so fast, if you develop a model, it's probably outdated within a year or two.
Douglas: We have a lot of proprietary tools, and when we use them case-by-case, the clients are on board. But I find that we're not at a level of the right balance because of legacy [expectations].
Xi: Honestly, what we say is 'this is the closest we can get. This is our best guess.
MiC: One of the edges, perhaps, for media agencies, is that they have the power to make something easier for a client. Because the agencies have the trust and the data, is that something you see as an advantage in making things easier?
Xi: It's something we need to work on, but yes. We have a tendency to get too caught up in the data and make things too complicated. Just as we feel we're bieng pulled in a thousand directions, so are our clients.
Douglas: We need to have credibility and understanding of flexibility to be able to even make that attempt. People do oversimplify and the intelligence behind what we're doing gets lost. They all want things to be simple, but we need to see their real business goals. What are their bonuses based on? What are their real objectives?
Media in Canada's roundtable series for 2017 was conducted in partnership with the Globe Media Group. For a look at past discussions with directors, VPs and the C-suite, take a look back at our previous roundtables on MediaInCanada.com.
Photos by Kevin Cordick