ICYMI: CBC switches up The National, Uber hires new global head of media
Plus, Sportsnet ratings increase at midseason and Now Magazine ups editorial staff following Media Central acquisition.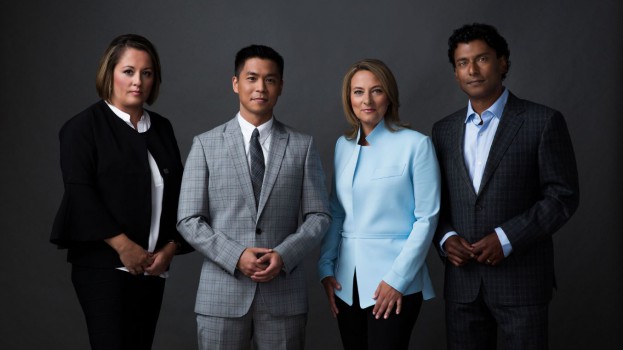 CBC switches it up behind 'The National' desk
Two years after reinventing The National, CBC has decided to drop the flagship news broadcast's four-host format. Effective immediately, Adrienne Arsenault and Andrew Chang will co-host the show Monday through Thursday from Toronto and Ian Hanomansing will host Friday and Sunday evenings from Vancouver. Rosemary Barton has been named the chief political correspondent of CBC News and will be based in Ottawa, though she will continue to host At Issue. It was reported that viewership has dipped slightly since 2017 when Peter Mansbridge retired from an audience that averaged 866,000 viewers nightly. In January 2020 ratings had risen 3.6% year-over-year to an average audience of 691,000. The National will also revert back to two live broadcasts each night.
A new global head of media for Uber
Travis Freeman, former executive VP of media at VaynerMedia has been tapped by Uber to serve as its new global head of media in the San Francisco office, reporting directly to Thomas, VP of marketing. The news comes just a day before the company was given the go-ahead to begin operating in British Columbia following a ruling from The Passenger Transportation Board. Prior to VaynerMedia Freeman was global agency development lead at Twitter and global head of social at Dentsu Aegis Network.
Sportsnet mid-season ratings climb sans Cherry
Despite the November dismissal of longtime Hockey Night In Canada segment host Don Cherry, Sportsnet's ratings have increased, defying the few who said they would boycott after Cherry's firing. As of midseason, HNIC saw a 5% increase in its audience year-over-year with an AMA of 1.8 million during the 7 p.m. time slot. Reach also increased 4% year-over-year during the 10 p.m. time slot, topping 14.4 million. Since Cherry's firing and the subsequent cancellation of Coach's Corner, the segment between the first and second periods during Saturday night has been filled with special panels and interviews, including a group discussion on coach conduct in the NHL and last week's interview between Ron MacLean and Akim Aliu on racism in the sport. Overall, NHL action saw a 3% increase on the network with a total reach of 24 million.
Now Magazine names two new senior editorial leads
A month after being acquired by Media Central, Now magazine announced the appointment of two new senior leadership roles in its editorial department. Kevin Ritchie, formerly senior culture editor with a decade of experience at the Toronto-based publication, has been promoted to editor across the Now and CannCentral.com brands. Ritchie has been tasked with digitizing Now's 1.38 million monthly print readers. Enzo DiMatteo has been appointed political editor after working with the magazine's print and digital products since 1989. Ritchie previously worked for MiC sister publication realscreen.