Campaigning for Valentine's Day
MiC asks execs from Carat and Mindshare if they are feeling the love for Feb. 14 campaigns from brands including Wind Mobile and Heineken.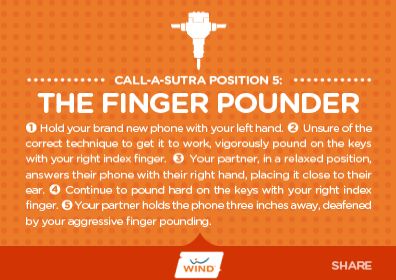 With the international day of love just around the corner, brands are vying for a little positive attention of their own with ads tying into the Feb. 14 holiday.
Wind has launched a Valentine's campaign aptly dubbed "Call-A-Sutra," which provides phone-holding advice for couples in an effort to create awareness for its Share The Love Phone Combo Deal.
The Facebook tab was created by MacLaren McCann and reveals a new sexually suggestive position each day (such as the "All Nighter" and "The Cushion-Pushion") from Feb 2 to 15.
It will be promoted through online and print ads, which were placed by Starcom MediaVest Group in publications such as the Toronto Star and Metro, John Killam, group account director, MacLaren McCann, tells MiC.
"Since the very beginning, Wind has been a brand that very much tries to communicate in an interesting way," he says. "They've stepped outside the lines a bit to have some fun. It's very on brand and I think they've built a lot of popularity in Canada by having an open and fun tone of voice and that stands out in the market."
Heineken is also celebrating the month of love with a global campaign that allows consumers to ask out a date using a personalized video song message created on Facebook. The "Serenade" campaign was developed by Wieden + Kennedy Amsterdam and goes even further to include an eight-hour "Serenade Live" event where select fans will have their Valentine's message written and performed live on the internet on Feb. 9.
Lastly, Maybelline New York Canada worked with agency Marketel in order to create a campaign that also puts the makeup brand in the spirit of things. For the countdown to Valentine's Day, from Feb. 1 to 14, the brand is giving away makeup kits to Facebook fans. The kits include the Maybelline SuperStay 14-hour lipstick, with 500 of them being prized on the final day of the promotional campaign.
As more and more non-gifting brands promote themselves around Valentine's, MiC asked Brian Fitzpatrick, managing director at Mindshare, and Alastair Taylor, VP, Managing Director at Carat, for their thoughts on brands activating around the holiday as well as for their advice.
Fitzpatrick: For the right brand, campaign and message, Valentine's Day can be a terrific opportunity.
"Right" refers to when there is a genuine match between the marketing and the emotion of the day. And it is about emotion, finding where the brand or message taps into the voltage of relationships. Brands that successfully attach themselves to such a human archetype or real emotion usually see consideration rise.
There is an obvious match with gifting opportunities, but even for non-gifting products or services if there is a genuine way to align the message it can be powerful. For automotive, why not talk of going for a romantic trip together in your new vehicle, promotionally packaged with a hotel destination. In CPG or white goods, the right product can be pitched as a time or labour saver, showing your respect for the everyday effort it takes to keep a household going. Of course there's a thin line. Consumers today, more so than ever, can smell blatant exploitation and phoniness, so advertisers beware.
Taylor: Activation around a holiday like this has to be carefully managed. The reason that most people execute around these sorts of occasions is usually because it's a time of increased consumption so people are trying to steal share, or because they are trying to build a positive association with their brand (Coca-Cola has done a phenomenal job of this around the Christmas season).
However, depending on your brand, surrounding yourself around something like Valentine's Day really is a tactic. My advice would be to not try to overplay it too much and make sure that it ladders up into a business strategy that makes sense to your bottom line. Special attention is needed if you are trying to build the positive association because in reality this holiday can be one of great joy or bitterness (love can be cruel after all) so Valentine's Day out of all the holidays may not be the best for your brand.