Couch critics: Over the Rainbow, The Mob Doctor and Revolution
Predictions on which shows will soar and which are headed to an early start on the golf course from the team at Denneboom and Bensimon Byrne's Max Valiquette.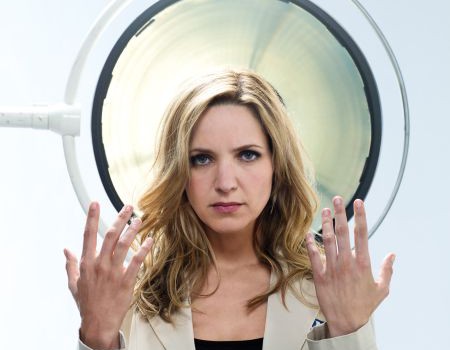 MiC has asked a few TV-mad contributors to give a rundown of the new shows, and place their bets on which will have staying power.
Reviewing CBC's Over the Rainbow,  CTV's The Mob Doctor and Citytv's Revolution is the team at Denneboom: VP of marketing and media Leslie Krueger, media analyst Kayla Landen and VP and senior media advisor Lauralea Mast, as well as Max Valiquette, managing director, strategy at Bensimon Byrne.
Over the Rainbow (Sunday and Monday night at 8 p.m. on CBC):
Denneboom: Whether it is Battle of the Blades, Dragons' Den or this latest British import, the CBC knows how to deliver high quality reality TV. Sunday night's premiere of Over the Rainbow didn't disappoint.
The two-hour premiere kicked off with a documentary of the cross-Canada audition process that saw thousands of Dorothy-hopefuls compete for a chance to star in the upcoming Toronto stage production of The Wizard of Oz. The second hour went live to CBC studios where ex-MTV'er Daryn Jones did his best Ryan Seacrest and the ten remaining talented Dorothys sang and danced to win the judges' approval and viewer votes. Sound familiar?
The real star of the show was the Over the Rainbow smartphone app that linked directly to the live broadcast experience. Pop up trivia, polls ("Who is the best judge at giving constructive criticism?"), a Twitter feed and The Crystal Ball (a live applause meter for each performance) kept us captivated. There were a few technical glitches, but a solid effort at integrating the two screens. We seriously had a hard time deciding which screen to watch.
The PVR is already programmed for next week's show and we're sure many viewers will follow the yellow brick road for the next 12 episodes.
Valiquette: Over the Rainbow is going to last for its full season, no question. As far as reality competition shows go, it's doing everything right: genial host, clearly articulated concept, judges with something to offer. The show was already a hit in the UK, which bodes well for it – as does the fact that it only demands a ten-week commitment from its viewers.
Mostly, though, the show benefits from the aspiring Dorothys, who are all absolutely adorable. My only concern here is the absence of an easily identifiable villain – that reality show staple – but it's possible that we discover a Wicked Witch down the (yellow brick) road. This one will do well. Unfortunately, it's not really repeatable beyond one season.
Odds of survival? The yellow brick road will lead to one season.
The Mob Doctor (Sunday night at 9 p.m. on CTV):
Denneboom: As fans of Grey's Anatomy, the trailer for The Mob Doctor got our attention. A Sopranos meets Grey's? Possibly. Jordana Spiro (My Boys) plays Dr. Grace Devlin, a troubled doctor whose troubles are amplified by her many connections and debt to the mob. Mob Doctor began with potential, giving the typical hospital drama an interesting twist, but we wonder if the pilot episode gave up too much too fast. In the fast moving first episode we quickly found out who knows Grace's secret, who is in danger and how her secret would affect her job. We wonder what could possibly be left for the viewer to discover. As the House replacement and the only new drama on Fox's schedule it should get the US network support and will most likely be a survivor.
Valiquette: The Mob Doctor is one of those shows that announces everything you need to know about it in the title: imagine what Breaking Bad would be like if it was called "The Meth Cooker," and you've got an idea of how not subtle it is.
It's one of those shows that is trying to be both a procedural and a serial. There's a larger arc about our heroine (she owes a debt to the mob!) but there's also the potential for ER-style medical cases every week (she's a doctor!) There's a few things to recommend about this show, most notably the tough-girl appeal of titular heroine Jordana Spiro, but I can't see it lasting much beyond the first season. I didn't care enough about the larger storyline to want to come back and find out how it all ends, and there was nothing engaging enough in the case-of-the-week to make me think that I was going to see anything exciting there, either.
Odds of survival? Doesn't look like a mob hit in the making.
Revolution (Monday night at 10 p.m. on Citytv):
Denneboom: Ten minutes into the new J.J. Abrams series Revolution, we felt like we had missed a whole episode filling in the back story.  Fifteen years pass in the blink of an eye, as does the rest of the action and plot. Abrams described Revolution as post-power not post-apocalyptic but we think this show is lacking staying power.
One moment the show is sci-fi, then comedy, then a ninja fight film. The characters are caricatures with black clothes for the bad guys, white clothes…well you get the idea. And even without power, somehow low slung tight jeans are still being produced for hot young women.
Even Iron Man director Jon Favreau can't save this Revolution. Maybe Abrams has 'lost' his touch.
Valiquette: Revolution is the latest Lost knock-off, and I can't see it lasting any longer than any of the others. Remember The Event? Neither do I, really, and what we have is the exact same sort of show, on the exact same network. Some weird incident occurs (in this case, all advanced technology ceases to function) and we're supposed to root for our plucky band of survivors as we get sucked into the larger mystery of it all (spoiler alert – someone's got a working computer!) The pilot is ably directed by Jon Favreau, but none of the actors feel like they've got any sort of breakout appeal. I can see it limping to the end of the season, but that's about it. By next year, none of us will remember this show was ever even on.
Odds of survival? Not looking good for Abrams' latest end of days drama.