The fight for Fall TV
The battle plans from each of the major networks, as we head into the new fall season.
Primetime faceoff
When it comes to the fight for nighttime supremacy, each of the four major networks has its plan of attack. Shaw's Global is riding the trend of heart-stopping drama, made popular by those pesky pay-TV competitors. Rogers is going for more mass appeal now that hockey is on City. CTV hopes to maintain its domination of the weekly ratings, while CBC wants to come back with a vengeance after major budget cuts and the big hockey loss.
Rogers' mass appeal play
By Val Maloney
With $5.2 billion spent on a 12-year, country-wide NHL hockey deal last fall that will fill up both weekend nights on its City schedule, Rogers went into the upfronts with a strategy to capitalize on the big audience delivered by its new favourite sport.
City only picked up four new shows to flesh out its existing sked, adding pieces that target broader than its former comedy-focused, younger-skewing fare.
That new mass appeal strategy aims to score more time with the NHL fans, says Hayden Mindell, VP of TV programming and content at Rogers Media. "These shows are more broadly targeted and will appeal to more demographics. There isn't anything too racy, nothing too masculine or too feminine."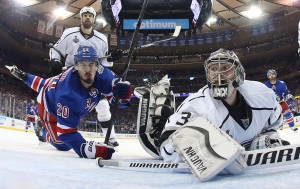 Scorpion, a drama centred on an independent Homeland Security think-tank and the highly intelligent, socially awkward group that works there, bows Mondays at 9 p.m., after the return of 2 Broke Girls at 8 p.m. and Mom at 8:30 p.m. Keith Pelley, president of Rogers Media said the company would not have purchased the new drama if it didn't have the chance to promote it during Hockey Night in Canada on Saturday nights, likening the scenario to the days when he worked at Fox and promoted The X-Files during NFL games.
City's only conventional comedy pickup of the fall is Black-ish, airing on Wednesdays at 9:30 p.m. after ratings juggernaut Modern Family. It centres on a family in the suburbs dealing with assimilation and cultural identity and stars Laurence Fishburne and Anthony Anderson.
City has also picked up a show Mindell calls a "big get," the buzzy reality series Utopia, airing Tuesdays at 8 p.m. and Fridays at 9 p.m. It follows 15 individuals who leave their lives behind to create a new world with their co-contestants.
Finally, the channel will air the new Rainn Wilson procedural crime drama Backstrom starting mid-season.
In addition to hockey, Rogers Media is adding to its live event-based programming with the three-hour Broadway musical special Peter Pan Live! coming to the channel sometime next season. It joins the Grammy Awards and CMAs as part of the live event slate.
Photo courtesy of CP Sports