The fight for Fall TV
The battle plans from each of the major networks, as we head into the new fall season.
Shaw Media gets dramatic
By Val Maloney
Aiming to go big on drama for years, Shaw Media's Global Television re-upped its commitment to the serious side of programming this upfront season, reworking its schedule to build on the existing slate of returning shows, like The Blacklist, Chicago PD and Sleepy Hollow.
The channel went into this year's schedule-planning process with a few main goals: the first was to only add one new show a night in order to maintain stability and build off the power of existing hits, and the second was to increase the channel's presence on Thursday evenings.
Barbara Williams, SVP of content for Shaw Media, says Global went into the L.A. Screenings looking to buy shows to help it continue to build out its 10 p.m. time slot, an hour it has been investing in, but one from which other networks have been withdrawing.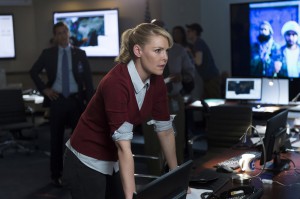 To that end, Shaw picked up three new dramas for the time slot, with the Katherine Heigl-starring, White House thriller State of Affairs (pictured right) to air at 10 p.m. on Monday nights when The Blacklist finishes its new episodes in November. The psychological thriller Stalker, starring Dylan McDermott and Maggie Q, takes the 10 p.m. slot on Wednesdays, and Constantine (featured image), a new thriller based on the DC Comics Hellblazer series starts on Friday nights in the prized hour.
Thursday night is the one Williams singled out as an area to improve. With Glee and The Millers no longer on Global and last fall's Welcome to the Family off the grid, the night had been left open to be reworked. The new show anchoring the night on Global is Gracepoint, a remake of U.K. crime mystery Broadchurch, starring Dr. Who's David Tennant and Breaking Bad's Anna Gunn. Bailey Wilson, director of investment at UM Canada, says it's her favourite of the new season and will give her PVR a workout in the night's 9 p.m. time slot.
Leading into the new drama is Bones, followed by the start of the final season of Parenthood until November when it moves to Saturdays, when the third season of the Sherlock Holmes series Elementary takes over.
With NHL hockey on Rogers and football on CTV, Williams also wanted to present a new schedule that offered a different viewing perspective for Sunday nights, breaking up the more male-focused animation domination block and adding two new more female-skewing dramas to the mix.
Along with Fridays, Sunday nights are one of the two evenings during which the channel has comedy programmed. Sunday night starts with Mulaney, a new sitcom about up-and-coming stand-up comic John Mulaney at 7 p.m., leading into Bob's Burgers, which airs ahead of simulcast at 7:30 p.m.
The 8 p.m. hour features new drama Madam Secretary starring Téa Leoni as the newly-appointed secretary of state. Following the new White House drama is The Good Wife at 9 p.m., which heads into its sixth season.
Back after the female-focused drama block is the second half of animation domination, with The Simpsons at 10 p.m. and Family Guy at 10:30 p.m., airing post-simulcast with the aim to reach its more male-skewing demographic after sports games wrap on other channels.
Friday also features more light-hearted fare, with the second season of About a Boy at 8 p.m. and new comedy of romantic errors Marry Me at 8:30 p.m. leading into Hawaii Five-0 at 9 p.m. and Canadian reality show Border Security at 10 p.m. until October when Constantine takes the slot.