ICYMI: DAC Group lands Fitlight
Plus, Pattison Media launches a self-serve platform, BuzzBuzzHome is acquired by Zonda and COMMB launches a virtual event series.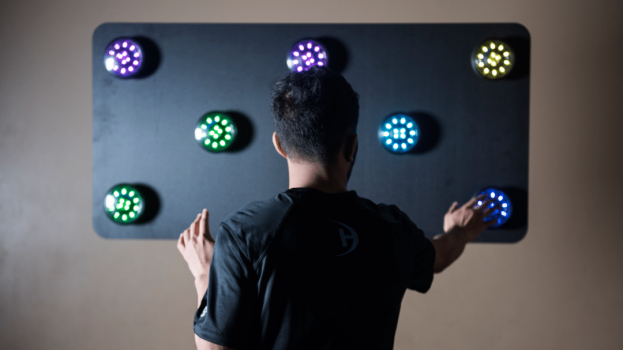 Fitlight taps DAC Group for further U.S. expansion
Toronto-based DAC Group has added Canadian fitness brand Fitlight (pictured) to its client list. The fitness brand is making moves to expand into the U.S. and has signed the agency to run a holistic marketing campaign south of the border, including an integrated content strategy, search engine optimization, persona development and customer journey mapping to inform upcoming campaign activities in the U.S. specifically, targeting the health and wellness category.
"Our plan is to start with Fitlight's largest market – [the U.S.] – and begin to replicate the work in other markets including Canada later this year," Adam Luck, GM and vice president of DAC Group in Toronto, tells MiC.
Fitlight runs a speed and cognitive training system used by the Toronto Maple Leafs, Toronto Raptors, New York Yankees, Golden State Warriors, Vancouver Canucks, Nashville Predators, Manchester United, FC Barcelona and the U.S. Airforce.
Pattison Media and Lift launch Nimble
To provide easier access and self-serve capabilities to its clients, Pattison Media and its digital partner, Lift Interactive, have rolled out Nimble, an integrated digital media service tailored for local businesses.
The platform features flexibility and insights allowing local SMBs to tailor ad strategies to manage budget restrictions, while still including targeting, measurement and tracking services. Nimble is being rolled out throughout the remainder of 2021.
Zonda acquires BuzzBuzzHome
Zonda, a U.S.-based data-driven marketing agency focused on the homebuilding industry, is expanding into Canada through acquisition of Toronto-based online real estate listings platform, BuzzBuzzHome, and its media brand, Livabl.
The acquisition follows Zonda's recent purchase of Vancouver-based Urban Analytics earlier this month, which expands the agency's data capabilities into the urban and multi-family markets.
Canadian homebuilders such as Empire, Tridel and Daniels use BuzzBuzzHome as part of their sales and marketing campaigns for new home projects due in large part to the platform's monthly audience of over 1 million home shoppers. As part of Zonda, the acquisition reportedly affords BuzzBuzzHome additional opportunities to grow, expanding its marketing tools, resources and services offered to homebuilders so they can better reach new home buyers.
COMMB launches virtual series
In collaboration with OOH media owners, brands, and agency leaders, COMMB has introduced COMMB Talks, a new virtual event series that will explore perspectives on the future of OOH including traditional media formats, programmatic and automated marketing, market segmentation and targeting, campaign conceptualization and execution, analytics, integration and other trends as they apply to the OOH vertical.
Each quarter, COMMB Talks will examine topics highlighted through industry surveys conducted by the COMMB research team, and curated by expert presenters and panelists. The first event, Brand Direct, takes place May 11.
With files from Patti Summerfield.